Oppo has outed yet another piece of the N1 cameraphone puzzle. In a tweet, the Chinese phonemaker has revealed that their upcoming Oppo N1 will sport a 5.9″ display.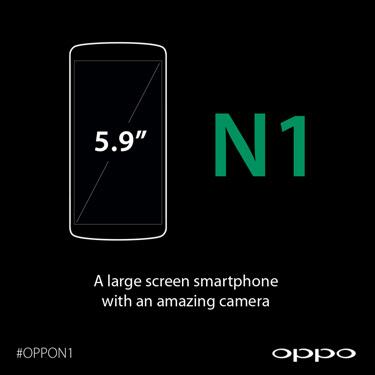 This will put the phone right against the likes of the yet-to-be announced Samsung Galaxy Note III, which too is rumored to pack a similarly sized display. However, the Oppo N1 will probably be more about advanced camera performance, as the latest teaser hinted.
The photo above also outlines the shape of the phone. As you'd imagine, with such a display the phone is going to be quite big, still if the ratio of the sides it to be believed, the phone will be remarkably narrow.
However, the alleged live image of the upcoming Oppo N1 that popped up along with the details of its rear panel touch tell another story.
Also Oppo has recently revealed the availability details of the smartphone through a Google+ post and as expected, the cameraphone will be available later this year.
Oppo will be unveiling its N1 cameraphone on September 23 at a special event in Beijing, China. The Chinese manufacturer has been teasing its upcoming handset with countdown timers, sneak peaks of its camera and its unique rear touch panel features.