Tablets dominated much of the attention at the Mobile World Congress and with good reason. Some of the new phones weren't terribly impressive, while there were plenty of new things in the tablet world.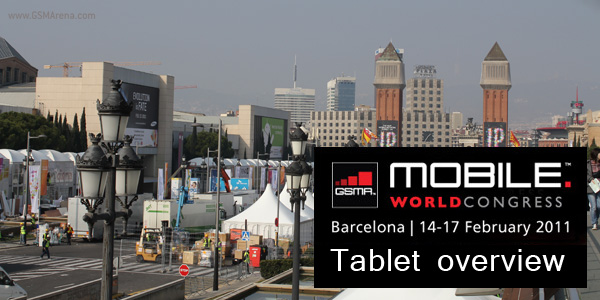 Android tablets exploded in numbers. There were also two new tablet platforms (PlayBook's OS and webOS on the TouchPad). A handful of Windows 7 tablets were on the MWC grounds too.
Here's a quick summary of all those tablets…
Samsung
Predictably, Samsung announced the Galaxy Tab 10.1. It's a 10.1″ tablet that runs Android 3.0 Honeycomb on a Tegra 2 platform, with 8MP main camera (with 720p video) and 2MP front camera. It's pretty thin at 10.9mm. Don't forget to check out our hands-on.
The Samsung Galaxy Wi-Fi 5.0 also counts itself among tablets with its 5″ screen, even though Samsung prefers to promote it as a multimedia player. It runs Android 2.3 Gingerbread with TouchWiz and joins the previously announced 4″ Samsung Galaxy Player.





Samsung Galaxy S Wi-Fi 5.0 • Galaxy S Wi-Fi 4.0
LG
LG continued its stereoscopic 3D push with the Optimus Pad. It's an 8.9″ Android 3.0 Honeycomb tablet, which packs a dual-lens 3D camera on the back. It also has an HDMI port to output 3D content to HDTVs. The tablet can display 3D imagery too, but you'll need anaglyph glasses.
Check out our hands-on here.




LG Optimus Pad hands-on photos
HTC
HTC joined the fray too, with their 7″ Flyer. It relies on Android 2.4 (and not the tablet-optimized Honeycomb), a fast 1.5GHz CPU and 1GB of RAM. The Flyer boasts an aluminum body and revives the stylus – check out our hands-on video to see it in action. The price may be a bit steep though.
Motorola
Motorola unleashed their XOOM tablet with a 10.1″ screen. It runs Android 3.0 Honeycomb powered by 1GHz Tegra 2 chipset with 1GB of RAM. It will be available in 3G+Wi-Fi and Wi-Fi-only versions.
Check out our hands-on for more info.


Live photos of the Motorola XOOM tablet
BlackBerry
The BlackBerry PlayBook boasts a brand new OS of their own, instead of relying on one of the existing OSes. And boy, the 7″ tablet interface impressed us with looks and multitasking skills. The Playbook has a 3MP front camera plus a 5MP back camera, which records 1080p video.
You'll find our hands-on video here.
HP
HP showed the TouchPad tablet with a 9.7″ screen and webOS making its tablet debut. The OS's impressive multitasking with the card interface is supported by a dual-core 1.2GHz Snapdragon chipset.
We have a hands-on video of the HP TouchPad too, of course.
Acer
Acer showed two Android tablets – one 7″ tablet (Iconia Tab A100/A101) and one 10.1″ tablet (Iconia Tab A500/A510). Both are powered by a Tegra250 SoC. They also showed off the Iconia Tab W500/W501 10.1″ tablet, which runs Windows 7 on an AMD C50 platform.




Acer Iconia Tab A101 • Acer Iconia Tab A501
Then there's the Acer Iconia, which is laptop with two touchscreens (the second replacing the keyboard), which is hard to classify but I'm including here for the sake of completeness.
Naturally, we have hands-on impressions of all these tablets. Oh, and the Acer Iconia Smart droid with 4.8″ 21:9 screen probably belongs here too.
ZTE
ZTE V9+ is a 7″ tablet with Android 2.2 Froyo, 1GHz processor and 512MB RAM. Here's the hands-on.
Huawei
The Huawei IDEOS S7 Slim is another 7″ Froyo tablet. Here's a very quick hands-on.


Huawei IDEOS S7 Slim live photos
ViewSonic
ViewSonic had three tablets ranging in size from 7″ to 10″. I'm not counting the ViewPad 4, which is technically simply a smartphone with its 4.1″ screen.
Its big brother is the ViewPad 7, with a 7″ screen and Android 2.2 Froyo.
Finally, the ViewPad 10Pro is a 10″ tablet, which can dual-boot Windows 7 and Android 2.2. Unfortunately, it was missing from ViewSonic's booth and we couldn't play with it. We did see the ViewPad 10 though (its predecessor) which can dual-boot Android and Windows too.
Here are some hands-on impressions of all tablets that were present.



ViewSonic ViewPad 10 live shots • ViewSonic ViewPad 7 live photos