RIM's PlayBook tablet is certainly taking its time to get to the market but in spite of all the rival Android tablets that are showing their faces lately, the PlayBook still looks as impressive as ever.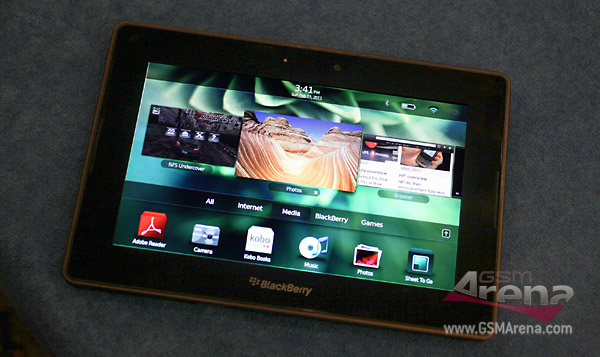 We get to play with it for the first time, and, man, that thing is sleek!
The interface of the OS on the BlackBerry PlayBook feels very intuitive and easy to navigate around. It's utterly intuitive and after you spend just a few minutes with it, you start to appreciate how well everything is laid out.
Check out our quick hands-on video for yourself.
The PlayBook supports gestures, which help you do multitasking not only easier, but faster as well. Sliding your fingers from outside the screen and bottom-up shows you the active applications in the form of cards. Swiping up closes any of the cards. Sliding left to right or vice-versa is a quick app switching. And sliding your finger from top to bottom reveals an application specific menu.
BlackBerry say they will ship the PlayBook with the Need for Speed: Undercover and Tetris by EA Games pre-installed as a bonus. Sounds nice to me!