The rumor mill has been pretty confident that he Unpacked 2 event on September 4 on IFA grounds will bring the new Galaxy Note III phablet and the Galaxy Gear smartwatch, but now there's official confirmation straight from the EVP of Samsung Mobile.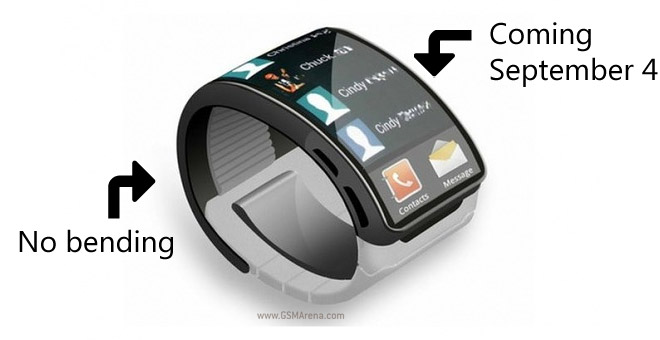 The EVP, Lee Young-hee, calls it a "concept wearable device" and says it's aimed at young trend-setters. Samsung is confident that the Galaxy Gear will shake things up in the mobile industry.
There were rumors that the smartwatch will use a flexible display but Lee denies that – the patents and IP are in place, but the bendable AMOLED display spotted in patent filings will be reserved for later, more advanced models.
The display should still be AMOLED (just the regular, unbendable variety). Unofficial numbers put the display size at 1.67″ and the resolution at 320 x 320. Other than that, the rumor is that there will be an Exynos 4212 chipset powering the watch – same chipset as the Galaxy Tab 3 8.0 (dual Cortex-A9 at 1.5GHz, Mali-400 GPU).
There are four color versions expected at launch – White, Orange, Grey and Black – with a limited White Gold following later on.
We'll have to wait and see just how much of a stir the Galaxy Gear causes – Sony already has a smartwatch (that's more of a wireless display), Motorola has an Android-powered watch, Kickstarter is filled to the brim with smartwatches and even Apple is rumored to be working on one (after it became popular to wear the old iPod mini as watch).
Thanks to Yunis Abadi for sending this in!