BlackBerry's BBM messaging platform has leaked for Android today on the XDA Developers forums. The app itself, while functioning, is pretty much useless as it fails to register with BBM servers and thus still doesn't do anything.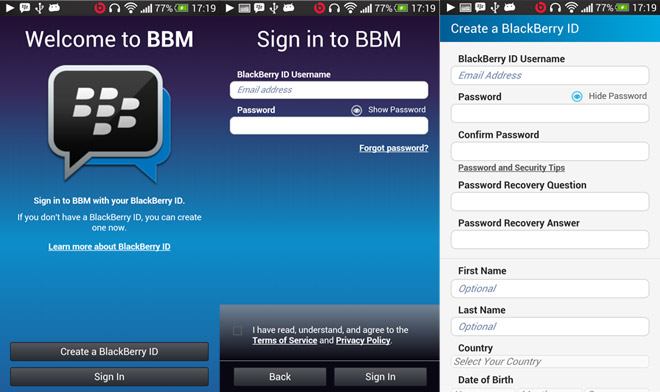 The app is reported to currently be able of running only on whitelisted devices, which we presume are dev units inside the BlackBerry HQ.
In its initial version, the BBM application for Android and iOS will only support BBM chats, multi-person chats, voice note sharing, and BlackBerry Groups. The latter will allow BBM users to set up groups to share calendar, photos, files, etc.
To refresh your memory, a month ago, the BBM app for Android was in its beta testing stages and then we got to see some leaked screenshots of the apps interface. If the latest promises from company officials are anything to go by, we should expect the full version of the app to hit both the Google Play Store and the Apple App Store by the end of this month.
Despite the app not being usable at this point, you can enjoy the login and user registration screens by following the source link below and downloading the .APK file.