Just like we suspected you yesterday, Samsung is joining LG at the Apple mock festival. Naturally, Samsung's latest jab at the Cupertino company is regarding the iPhone 6 Plus bending problems.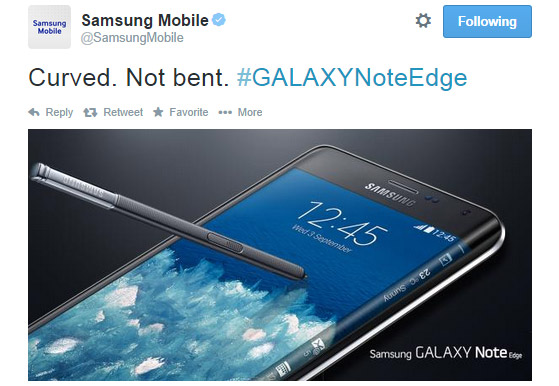 "Curved. Not bent" reads Samsung Mobile's latest tweet, while showing a picture of the Galaxy Note Edge. The phone touts a 5.6″ Super AMOLED display that's curved on the side to enable some cool user interface tricks.
We wonder how big Samsung's budget for taking jabs at Apple is. The company not only mocked Apple about the large size of its latest iPhone 6 duo, but also released a specially produced series of videos to make fun of it about the live stream of its event.
Who do you think will be next among smartphone makers to make fun of Apple for the iPhone 6 Plus #bendgate?