Windows 8 wasn't accepted as warmly as Microsoft would have liked but a Developer Preview of Windows 9 is expected at the end this month. It's so close that the team behind Microsoft's Weibo account has the teasers ready, we know because they jumped the gun with one of them.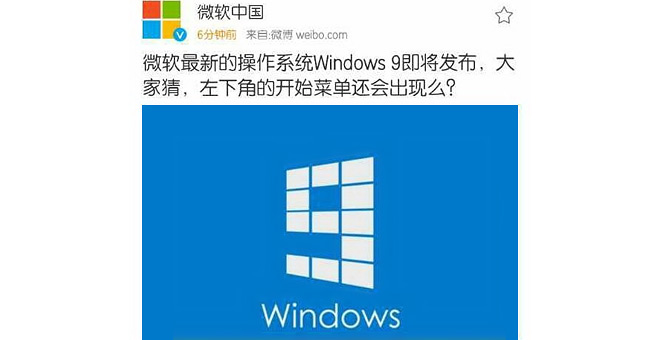 The image above – a combination of the Windows logo and the version number – was posted on the Microsoft China account with a text hinting at the lower left corner.
"Guess what will appear in the lower left corner" said the (Google Translated) text before the post was taken down. The lower left is, of course, the traditional home of the iconic Start menu and we've heard plenty of rumors that it's making a comeback, now that the Start button is back.
Another step towards the past may be the removal of the Charms bar (few tears will be shed) and Microsoft might finally add support for virtual desktops. Cortana might make the jump from Windows Phone to Windows 9 too.
The biggest change will be if Microsoft finally creates the "one Windows fits all" OS that it couldn't pull off with Windows 8/RT/WP8. We should know more when the Developer Preview drops (as the name suggests it will be far from consumer-ready).
Note that the image above is apparently just a mock-up for the teaser, not an actual Windows 9 logo.