In last week's poll, we reached out to you to find out what's your most anticipated device that's soon to be announced at IFA 2014 in Berlin. The feedback was overwhelming and the verdict unambiguous.

The poll results reveal that among all products that'll see their announcement at IFA 2014, the Samsung Galaxy Note 4 is our community's most anticipated one. We expect the phone to launch in two versions – one with a 5.7″ Super AMOLED QHD screen and the other with a three-sided YOUM display.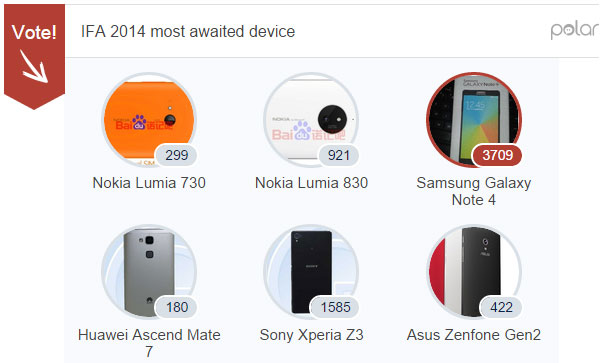 The runner up is the Sony Xperia Z3. Many of you have pointed out at the recent leaks suggesting that Sony isn't going to make drastic changes to its upcoming flagship. Nevertheless, it's still an exciting announcement to look out for. The Sony Xperia Z3 allegedly keeps the 5.2″ IPS LCD with 1080p resolution of its predecessor, but is a bit smaller and thinner. The chipset has been bumped up slightly to the AC version of Snapdragon 801 and the RAM is still 3GB.
Next up is the Nokia Lumia 830, a potent mid-range smartphone with a 20MP PureView camera and a 4.5″ 720p display. Interestingly, receiving the least amount of attention is the Huawei Ascend Mate 7. The smartphone will launch with the company's HiSilicon Kirin 920 chipset and will run Android 4.4 KitKat with a redesigned EmotionUI 3.0. Sadly for the company, it can't hold a candle to the anticipation tech fans have for the Galaxy Note 4.