The results of last week's HTC One Mini 2 against the compact smartphone legion poll is now ready and it's time to see how you voted. Just as a reminder, we saw HTC's latest mini smartphone face the Sony Xperia Z1 Compact, LG G2 Mini, Samsung Galaxy S4 Mini and the new 4G version of the selling-like-hot-cakes Motorola Moto G.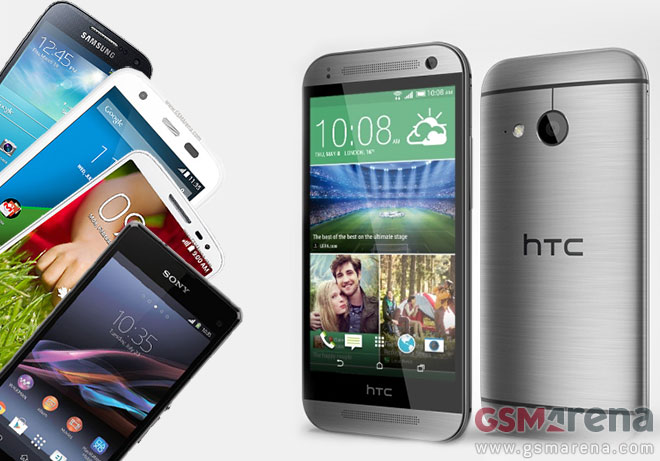 Overall, the results aren't all that shocking, for the most part. However, there's a twist at the end, which we didn't really expect.
The first round was won by the Sony Xperia Z1 Compact and quite easily at that.The Xperia Z1 Compact's flagship specs, good camera and small footprint won over nearly 7000 of our readers' hearts, while the One Mini 2 managed to get just 2000 votes.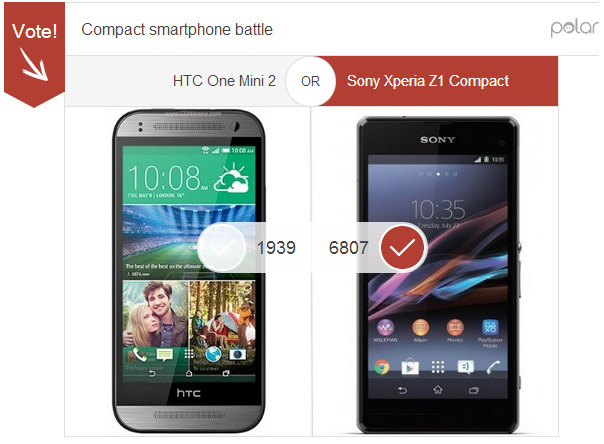 The HTC One Mini 2 did much better in the battle against the LG G2 Mini. While LG's compact competitor boasts an impressively large display for its a small footprint, we reckon its low-resolution 4.7" screen is what put many of you off. As a result, the One Mini 2 got north of 6000 votes, while the LG G2 Mini packs only a nudge over 2000 votes.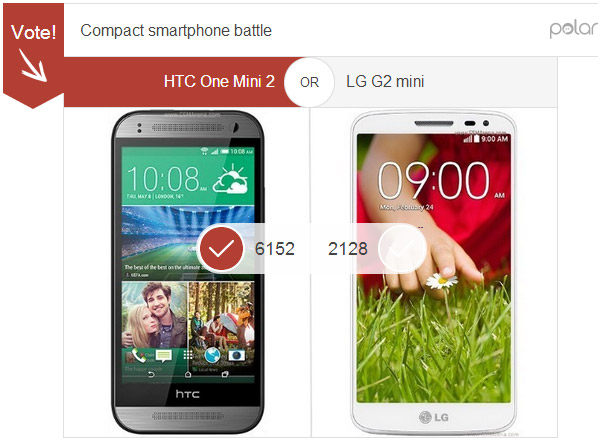 The HTC One Mini 2 continued its winning streak in its rivalry against the Samsung Galaxy S4 mini. Here, the gap between the votes is the largest – 7100 votes against just 1100 votes for the One Mini 2. We know that the Galaxy S4 mini is getting a bit old now, but we weren't expecting that big of a difference between the two.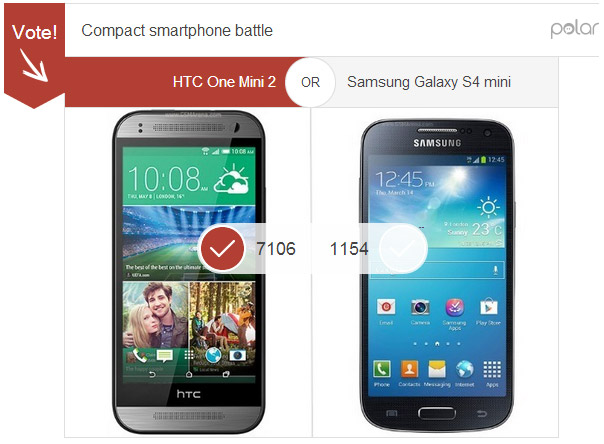 Finally, prepare for a surprise. It turns out that even the Moto G LTE couldn't handle the premium One Mini 2. The fast LTE radio, microSD card slot and an affordable price tag weren't enough for the Moto G LTE to make up for the One Mini 2 superior design and build and win over your hearts.