The HTC One Mini 2 is up there with the best looking compact smartphones currently on the market. The competition in this particular market segment has heated up considerably as manufacturers give their best to remain an important part of the 4-4.5″ market even after the flagships shot way past this mark.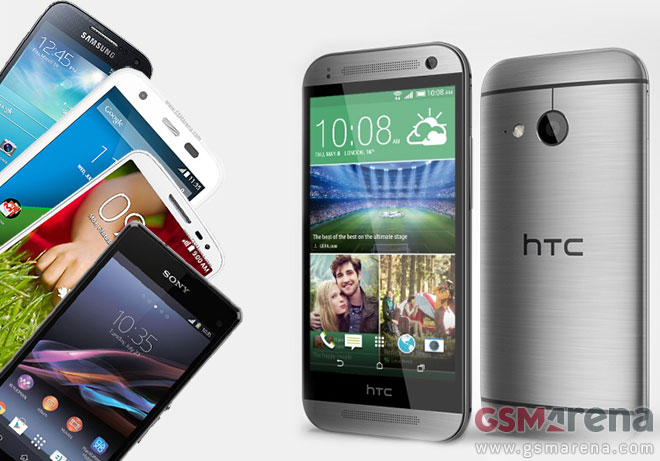 So, it's time for one of our classic poll battles to reach out for your opinion on how much of a chance does the One Mini 2 stand against its competitors. We're pitting it against the Sony Xperia Z1 Compact, LG G2 mini, Samsung Galaxy S4 mini and the Motorola Moto G LTE.
HTC One Mini 2 vs Sony Xperia Z1 Compact
Starting up with the Z1 Compact, or as we like to refer to it, the first real compact flagship phone. With a Snapdragon 800 powerhouse of a chipset, water and dust-resistance and good looks, there's little the One Mini 2 can do here in terms of specs.
The aluminum build of the One Mini 2 gives it an edge in terms of looks though and its front-facing stereo speakers really do make a difference.
HTC One Mini 2 vs LG G2 mini
Next up is the LG G2 mini that challenges the One Mini 2 for a duel. Despite its 4.7″ screen the G2 mini is more compact than the One Mini 2 as far as footprint is concerned. However, its qHD resolution doesn't stand a change against the 720p 4.5″ display of the One Mini 2.
The rear-button layout found on the G2 mini continues to be interesting in the sea of conventionally laid out smartphone button configurations.
HTC One Mini 2 vs Samsung Galaxy S4 mini
The Samsung Galaxy S4 mini is actually celebrating one year since its official announcement last May. For that period of time it certainly brought a lot of traction, while several price cuts helped it remain good value for money despite the specs sheet which is hardly competitive any more. We can't simply just walk past its popularity and neither can the HTC One Mini 2.
HTC One Mini 2 vs Motorola Moto G LTE
Lastly, let's throw the Motorola Moto G into the mix. The company introduced last week a 4G LTE version of the phone with an added microSD card slot. On paper, both the Moto G LTE and the One Mini 2 are quite similar. The differences pretty much boils down to looks, pricing and UI.
Would you rather have a more flashy "mini" smartphone in the face of the One Mini 2 or the Moto G LTE would have to do job as you spend your hard-earned money on a little vacation somewhere? Yes, the price gap is that big.
You have one week to vote on your preferred smartphone in each pairing.