This week was marked by CES and we were busy covering all the new hardware manufacturers were throwing our way. But now that the show is over, we though it's time to hear what you think about some of the most interesting gadgets that debuted there.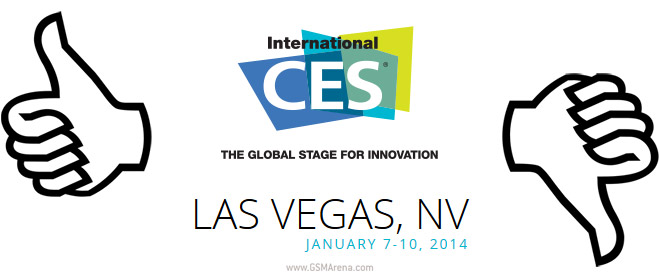 Take the new Sony Xperia Z1 Compact – it was the most exciting phone announcement at the trade show (one of the few), but the phone had its proponents and detractors.
It's the first super mini, that's for sure. No other 4.3″ phone on the market has a Snapdragon 800 chipset and while the Apple iPhone 5s has its own beefy chipset, its 8MP snapper is a couple of generations behind the 20MP Sony snapper. Is the Xperia Z1 Compact a true mini though? Some felt the bezels made it almost as big as a 5″ phone, defeating the purpose.
"Some" is a rather vague quantity, so here's the poll to get some more concrete numbers on the subject.
Another hot announcement from CES was the Samsung's Galaxy Note Pro 12.2 tablet. 10.1″ has been the standard since the original iPad brought the tablet market into life, but maybe it's time to change. Samsung spec'd out the Note Pro 12.2 with every feature under the sun, but did the company move away from the 10.1″ sweet spot? Or does the 12.2″ diagonal finally enable tablets to become proper workhorses?
Samsung also brought out three Galaxy Tab Pro tablets, but the 12.2″ one is almost identical to a Note Pro 12.2 with its S Pen removed, while the 10.1″ is the same but with Galaxy Note 10.1 (2014) as base). The Galaxy Tab Pro 8.4, however, poses a serious challenge to mid-size tablets like the Apple iPad mini, LG G Pad 8.3 and even the Amazon Kindle Fire HDX 8.9. But at almost €100 pricier than the LG G Pad 8.3, is it really worth it?
Samsung was on a roll and continued its stream of announcements with the Galaxy Camera 2. Almost identical to the original Galaxy Camera, but with some refinements like a better exterior and better battery. Still, it's been a while since the original launched and the Android-powered camera market has yet to heat up. Will it ever?
This year CES brought a ton of new wearables, including a steel-clad version of the highly popular Pebble smartwatch, the Pebble Steel. The stainless steel case did much to improve the looks of the original (which was way too plasticy for adults we thought), but it kind of looks like an 80s Casio watch and not in a good way. It has no new features (to maintain app compatibility) but it costs as much as some attractive automatic watches (if style is what you're after).
Even though it's Consumer Electronics Show, some companies brought out components of interest to manufacturers (and us geeks). Like the Tegra K1 chipset from NVIDIA – it promises graphics on the level of the Xbox 360 and PlayStation 3, but in a mobile power envelop. Still, those 192 GPU cores are about to eat up the battery pretty quick, so what's more important – better graphics or better battery life?
Speaking of cores and battery life, Alcatel showed the One Touch Idol X+, a flagship 5″ phone powered by an octa-core processor. Those are Cortex-A7 cores, which are known for their power efficiency, but still there's eight of them and at 2GHz to boot. The Moto G handles well enough with just 4 cores, are 8 really needed?
Along with wearables, humongous UHD TVs were a hit at this year's CES. We firmly believe that with TVs bigger is better and higher resolutions make it even better. But the landscape isn't quite ready for UHD – the content selection is slim and we still have to see how Internet connections across the world will handle it. UHD Blu-rays are nowhere to be seen either.
There are no right or wrong answers here – UHD will inevitable become the standard, smart wearables are here to stay, more powerful chipsets and bigger screens seem the way to go forward too. Some of those technologies aren't quite ready (or are they?) so besides early adopters with disposable cash, maybe the public at large isn't ready. What do you think?