The Xperia PLAY enjoyed exclusivity with a number of titles, most notably including the likes of Minecraft: Pocket Edition, the mobile iteration of hit indy title Minecraft, made by Swedish game developers Mojang.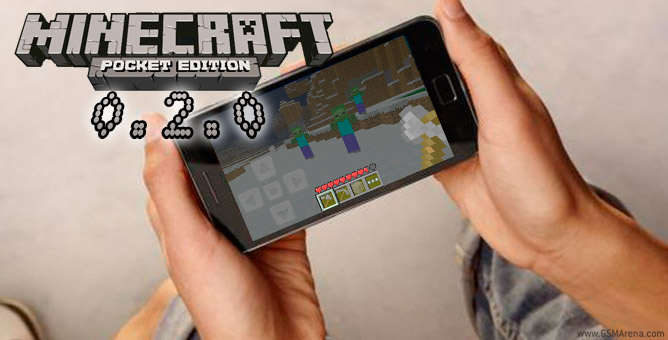 Daniel 'Kappische' Kaplan, Mojang's business developer and game designer for both Minecraft on Xbox360 and Minecraft: Pocket Edition, took some time to talk to us about the latest additions to the Minecraft: PE experience.
Following October last year, Minecraft: Pocket Edition was unleashed on the greater Android masses as the counter had run out on the Xperia PLAY's exclusivity deal. At the time, players had access to the rudimentary pieces of the 'creative mode' puzzle, allowing structures to be built in a perpetually lit, randomly generated world with infinite resources.
Creative mode is however, only one side of the Minecraft coin and gamers familiar with the fully fledged PC version were immediately asking where its companion experience, survival mode was. It is only now that Pocket Edition has taken steps to better mirror its PC-gaming counterpart with version 0.2.0 which released on Saturday.
There's still a long way to go before this new mode is at all like the traditional Minecraft experience, but that's not really the intended goal, as Daniel explained.
"Well the mission is not to copy the PC version exactly but we are looking on what stuff works great there and what makes sense for the touch platform. Crafting is something we definitely want to have but haven't decided what it will look like right now" he said.
There are a number of new features that 0.2.0 does add. First and foremost, survival mode, which gives players tools such as a pickaxe, sheers and a sword to mine, harvest, farm and defend against the resources and new mobs (aka creatures) now found in the pocket-sized Minecraft world.
A day and night cycle now features too, which allows players to collect food and materials by day, so that by night they can build shelter, survive and ward off the new undead enemies which appear in the darkness. Creative mode has also received the addition of player flight to aid construction, bringing it more in line with its desktop equivalent.
Despite the clearly extensive work that has gone into narrowing the gap between the two versions of this hit indy game, Daniel already knows how he wants to evolve the title further and improve the mobile gaming experience. Firstly the game is yet to receive the inclusion of a crafting mechanic, so key to the Minecraft experience familiar to seasoned players (such as myself). For fans of the game, expect crafting, music, more blocks/mobs and improved controls as time goes on.
He explained that the biggest limitations for mobile developers working with Android are the variations in hardware and the discrepancies in update schedules from manufacturers, not afraid to give hosts of our conversation Sony, a verbal dig to the ribs on the latter point.
"It (Android as a development platform) is okay. The most confusing thing is all the different versions of Android out there. I really wish that phone companies shipped their updates much more frequent (HEY SONY! :D) and that there were more standards on what to expect from a phone." he joked.
"Yeah the mobile phones are not as powerful as a PC (obviously :D). We are looking like two years beyond what we have today and try to not be too afraid to leave "old" mobiles with no support since we cant let the mobile phones decide too much on what we want to do." he continued.
"So probably in the future we will drop support for crappier phones since they can't cope with what we want to do. But they are getting better and better all the time which is great! They iterate a lot on the hardware and people adapt really fast to the new phones that come out!"
Daniel talked at length on the potential of mobile hardware and his hopes for the future of Minecraft: PE, not only that he also hinted that other titles (Scrolls) now in development at Mojang would also be making their way to the mobile world in a far smaller time frame and he also dispelled any rumors which some gamers might have heard that the Minecraft experience would be coming to the Sony PS Vita, it won't, sorry.
Follow this link to try the latest iteration of Minecraft: Pocket Edition in demo form, or for the full set of tools and features, you can buy it on the Android Market via this link.