Coming straight from the YouTube channel that brought us the fingerprint battle between the Samsung Galaxy S5 and the iPhone 5s is this new video where the Galaxy S5 is subjected to a drop test and being run over by a Tesla Model S.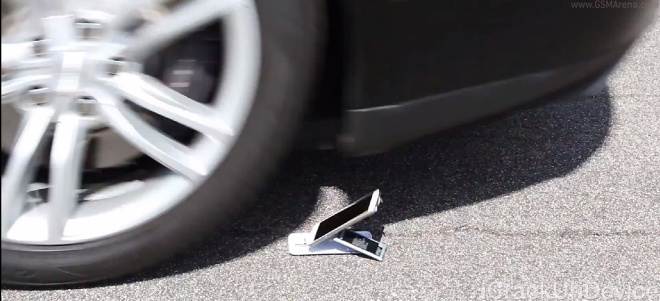 We've already seen how the Galaxy S5 takes drops on the ground so we're more interested in the car run over bit.
The Model S applies between 31 and 34 kg (70 to 76 pounds) of pressure per inch when the front and back tires pass through the device. The result – just watch the video. And if you're keen to skip to the interesting part just go to the 5 minute mark.
So the Samsung Galaxy S5 parted ways with its back panel and almost certainly its water resistance but still managed to live and tell the tail after being run over by a car. Pretty impressive.