Sony's unusual lens-cameras look like eccentric gadgets but early pricing rumors have them priced quite reasonably. They will come in high-end and entry-level options, helping push people who might be on the fence.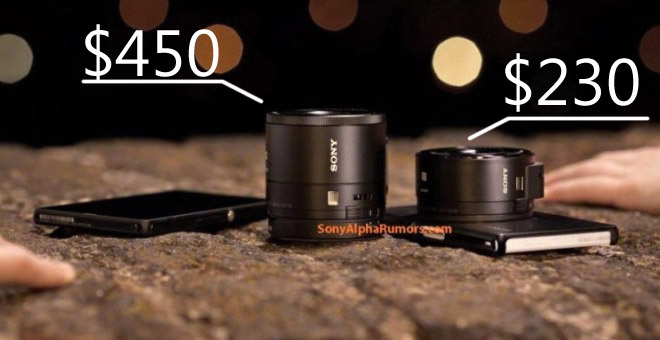 The high-end model – the QX100 – will reportedly use the same 1″ sensor and optically stabilized lens with F/1.8 aperture and 3.6x zoom as the Sony RX100M II.
At the moment that camera can be found for $710 / €730, while the rumored price for the QX100 attachable lens-camera is $450 according to Sony Alpha Rumors sources and NT$14,900 / €370 according to ePrice sources.
The QX10 will use the 1/2.3″ 18.3MP sensor with 10x zoom optically stabilized lens from the Sony WX150, which currently goes for $300 / €180. The QX10 will set you back NT$6,900 / €170 / $230 according to ePrice.
Sure, the lens-cameras are little more than that – a lens, a camera sensor, a battery, a memory card and a simple processor to handle encoding the image and talking to the smartphone. You don't get a screen but the one on your smartphone is better anyway. What you are really losing is the powerful flash and maybe battery life.
By the way, there's a rumor going around that the QX10 and QX100 will be called EspressOn (not to be confused with Xpress-On).
Thanks to Yunis for sending this in!