A huge flock of press images have surfaced on the web that show off the latest lens camera from Sony – the ILCE-QX1, called the QX1 in short. It's the successor to Sony's QX10 and QX100, which were shown on IFA 2013 and were essentially a cameras with their own lens and sensor but that could be attached to a smartphone and use its screen as a viewfinder.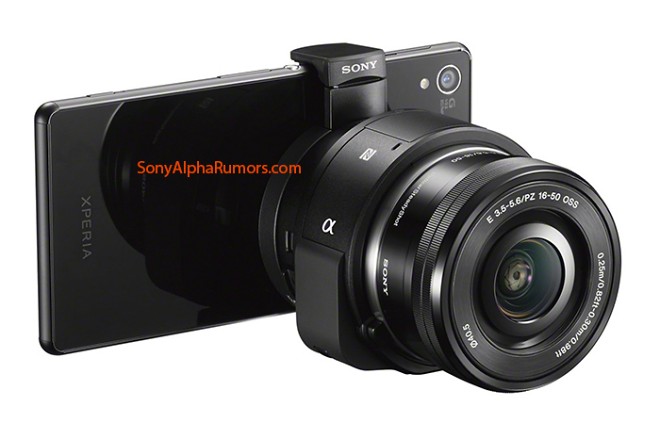 The QX10 had a 1/2.3″ sensor (around the same size as an Xperia Z2′s sensor) while the QX100 had a much bigger 1.0″ one. The leaked QX1 takes things to a whole new level with an APS-C-sized sensor and the option to swap E Mount lenses. The device should share an image sensor with one of Sony's interchangeable lens cameras like the current flagship APS-C in Sony's line 24MP α6000 or 20MP α5000, for instance.
According to sources from SonyAlphaRumors the QX1 will be unveiled tomorrow alongside the Xperia Z3, Z3 Compact, Z3 Tablet Compact and a duo of wearables. The images below show the QX1 in every which way you'd want leaving nothing to the imagination. One image even has the QX1 attached to what is very likely a Sony Xperia Z3.
The QX1 lens camera has a built-in popup flash and the standard Sony kit in the face of the 16-50mm f/3.5-5.6 stabilized lens.
The QX1 will reportedly set users back €300 for the body alone or €450 with the kit lens. Since the QX1 will use E Mount glass you'll be able to use any of the 20-odd lenses already available. For comparison's sake, a Sony α5000 camera will set you back €500.
It's an interesting concept and one that will likely appeal to even enthusiast photographers as it gives a range of shooting opportunities. It remains to be seen what the QX1 internals will be, mostly whether it will use the latest Sony sensors with a fast hybrid autofocus system with 179 focus points or the older variations with 99 hybrid points, or perhaps even a contrast-detect-only focus system. We guess we'll find out soon enough.