Sony isn't doing a great job of keeping those QX cameras secret – the press release for them plus the complete specifications have leaked, including pricing, and it's still hours before the announcement event even starts. And yesterday we saw the promo video, too.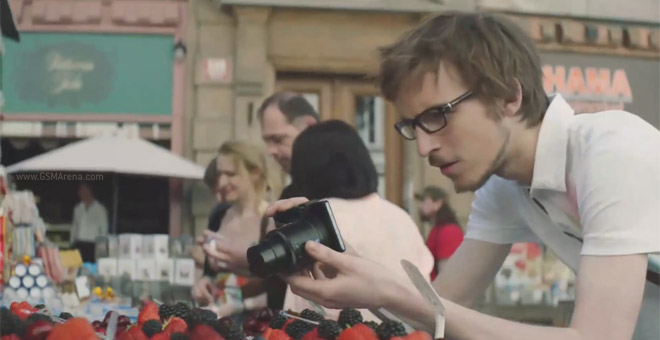 Most of the specs we've seen already, but there are questions regarding video recording and dimensions that had so far gone unanswered. And by the way, just for the record, the QX10 and QX100 are called "lens-style cameras".
The QX100 measures 62.5 x 62.5 x 55.5 and weighs 179g. The QX10 is shorter – 62.4 x 61.8 x 33.3 and weighs 105g. That's with a 630mAh battery, the QX100 presumably has the same battery.
That should be enough for about 220 still photos or 55 minutes of video recording (65 minutes on the QX10). Photos and videos are stored locally on a microSD card (up to 64GB) or Memory Stick (up to 16GB).
Speaking of video, both cameras shoot 1440 x 1080 video, so it's not even FullHD, but it's still nice. And while both have manual controls (the QX100 even has manual focus, the QX10 doesn't), they shoot only JPG (so no RAW capabilities).

According to the press release, the lens-style cameras will connect to any Android or iOS device using the Sony PlayMemories Mobile app. So good news for everybody.
The prices are pretty much as expected – the high-end QX100 will cost $500 (the Sony RX100M II which lends its lens and sensor to the QX100 is $750) and the QX10 will cost $250. Both will be available later this month and there will be accessories like a soft carry case and dedicated camera attachments for phones like the Xperia Z (we've seen attachments for the Xperia Z1 too).
Thanks for the tip, gmfady!