We first saw the Sony VAIO Duo 11 hybrid ultrabook yesterday through a few leaked images, but today it already went official.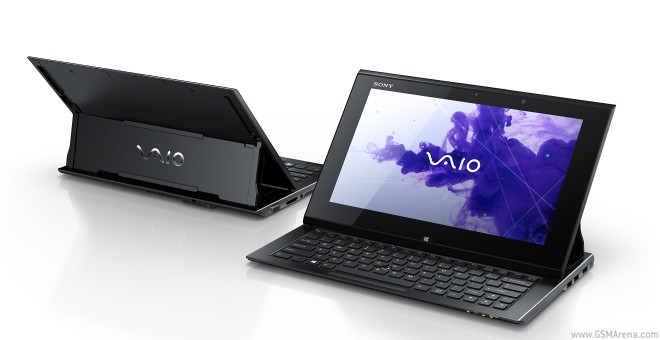 Sony unveiled the sweet looking VAIO Duo 11 at its pre-IFA press conference, along with the Tap 20 Touch AIO PC.
The VAIO Duo 11 it runs on Windows 8/ 8 Pro (not the RT version), has a slide-out backlit QWERTY keyboard, an 11.6″ OptiContrast FullHD 1920 x 1080 capacitive touchscreen and is powered by Intel Ivy Bridge i7, i5 and i3 processors with Intel HD Graphics 4000.
The Sony VAIO Duo 11 packs either 4 GB or 8 GB of DDR3 RAM, Wi-Fi a/b/g/n, Bluetooth 4, USB 3.0, a SD card slot, two FullHD 2 MP cameras at the front and back, NFC and can be used with a Sony digitizer stylus.
The VAIO Duo 11 weighs 1.3 kg with the standard battery and is just 18 mm thick. It will be available from the end of October, in "selected countries", after the Windows 8 launch.
The Sony VAIO Tap 20 is the first Windows 8 all-in-one PC by Sony and features a battery so you can move it around if you like. It will come in Windows 8 or 8 Pro flavors with a selection of Ivy Bridge Core i7, i5 and i3 processors, 4 GB or 8 GB worth of RAM, Intel HD Graphics 4000 and a 20″ 1600 x 900 VAIO Display Plus with the Mobile BRAVIA Engine 2.
The VAIO Tap 20 will feature either a 750 GB or 1 TB hard drive of the slow 5400rpm variety.
With the battery the VAIO Tap 20 will weigh a whopping 5.2 kg (kind of steep for a "slate") and comes with the full array of connectivity options.
No word on the pricing of the VAIO Tap 20 but it will also be available in "selected countries" come the end of October.