Sony's Smart Tennis Sensor is going on sale this May, with Japan being the very first market to experience the new racquet tech. Unveiled at CES 2014, the company's latest sports gadget is priced at £105 (JPY18,000).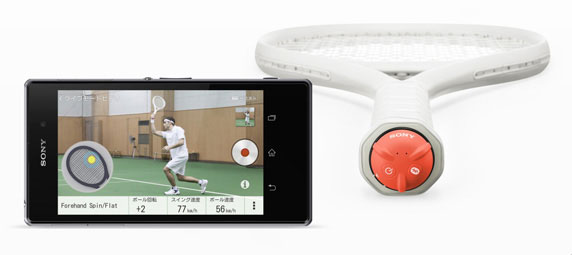 Just like the Babolat Play Pure Drive tennis racquet, the sensor sits on the bottom of the racquet and transmits various information via Bluetooth. The battery life you can expect to get is around 90 minutes, which is great considering the sensor only weighs 8 grams and measures 31.3mm in diameter.
The Smart Tennis Sensor is capable of tracking and collecting data about the tennis player's performance such as swing speeds, ball speed and type of stroke that's applied. The information is shown to you by a companion app available for iOS and Android.
Tennis racquet compatibility of the Sony's Smart Tennis Sensor is rather limited, though. At launch it'll be compatible with six Yonex racquets – the Vcore Tour G, Vcore Xi 98, Vcore Xi 100, Ezone Ai 98, Ezone Ai 100, and Ezone Ai Lite. Good thing is more racquets will be hitting that list in the future, according to Sony.