Yes, it's this time of the year again and most of you living up there in the States are probably looking around for a good deal on something you've already planned on buying. Well, in case you were up for a new cellphone or an iPad, here are some nice online deals to get you started.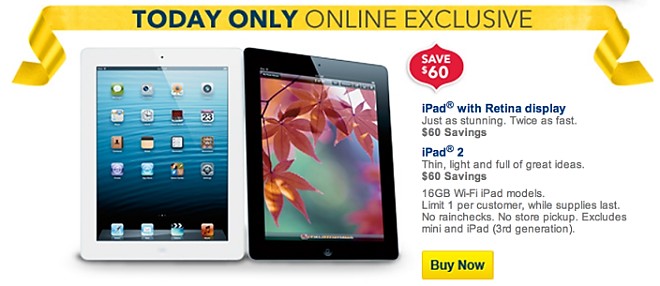 Unfortunately, here in Europe we don't have our own version of Black Friday deals, so all listed deals concern US prices and availability. By all means, this is not meant to be a complete list. If you know some more deals, share them in the comments.
When it comes to iPads, BestBuy surely has the best deal for them today (and it's available online as we speak). Thanks to 9to5mac.com we spotted this one in time.
$339.99 – Apple iPad 2 16GB Wi-Fi at BestBuy (today only)
$439.99 – Apple iPad 4 16GB at BestBuy (today only)
Apple will be holding its own Black Friday sale (online too) starting from midnight East Coast Time tonight, but we doubt it will get anywhere close to these savings.
Then come the contract deals on US phones. Here are several recent smartphones that you can get (almost) for free:
$0.00 – AT&T Sony Xperia TL 16GB at BestBuy
$39.99 – Sprint's Samsung Galaxy S III 16GB at Amazon Wireless
$39.99 – AT&T HTC Windows Phone 8X 8GB at Amazon Wireless (only in yellow)
$59.99 – Verizon's Samsung Galaxy S III 16GB at Amazon Wireless
$69.99 – AT&T Nokia Lumia 920 32GB at Amazon Wireless
As I already mentioned, in case you have any deals to share with us and your fellow readers, feel free to do so in the comments section below.