Six months after unveiling the Simband and SAMI – a wearable with a rich biometric sensor array and its supporting cloud platform – Samsung has unveiled the second generation of Simband. It's based on the Gear S but will not be sold commercially – instead it's a development platform that developers can pre-order today.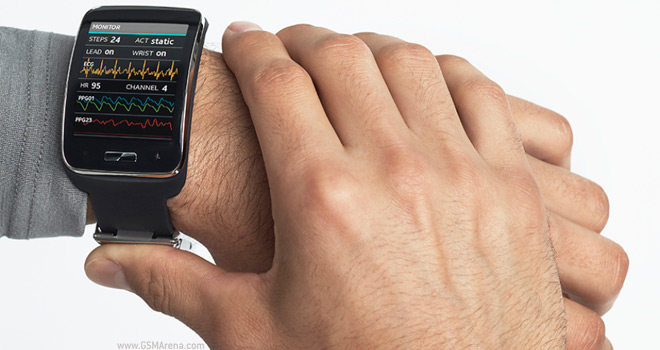 They can reconfigure the sensor array as needed and even develop their own sensors and algorithms to plug into the system. Samsung has made the Simband and SAMI an open platform to draw in partners and developers.
The current generation of Simband has six sensors – step counter, heart rate (ECG), blood pressure, skin temperature and galvanic skin response (how much you're sweating, a measurement of stress).
The health tracker has three main functions. The first is Spot, a quick check of your heart rate and blood pressure, then the more comprehensive Monitor, a real-time display of the sensor's readings, and finally Trends, which shows all the data collected over time. Data is synced over Wi-Fi (the Simband doesn't seem to have its own SIM slot like the Gear S).
One of Samsung's partners, Babolat, demoed a tennis racket that has sensors built into it, which connects to the SAMI platform. You can find more info on both SAMI and Simband at VoiceOfTheBody.io.
The Simband announcement was part of the Samsung Developer Conference which also brought us Flow and US pricing info on the Gear VR headset.