Samsung has announced a new technology called Flow. Well, new would be a bit misleading since it is similar to Continuity that Apple launched with iOS 8 and OS X Yosemite.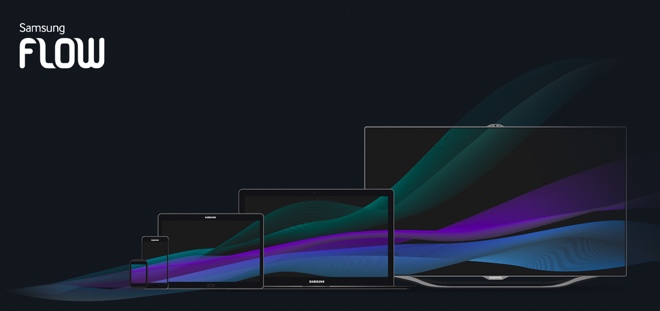 Flow has three basic features. The Transfer feature lets you push content between your Samsung devices. You can send a document or a web page from your phone to your tablet, start navigating on your phone and then push it to your Gear S, start watching a movie on a tablet and then push it to your Samsung television, etc. You can also start a video call on one device and then continue it on another.
The other feature is Defer. Defer lets you save tasks on one device so you can access them later on another. You can save a link or a document on your phone and then when you get back to your PC you can continue from where you left off.
The last feature is Notify. Notify syncs notifications between your Samsung devices, so if you get a call or a message on your phone, you will see a notification on all your connected Samsung devices, including your watch, tablet, computer, and even you television.
It's not clear yet what operating systems will be supported for syncing with your computer, whether it will work with Windows or Chrome OS (or OS X, maybe?) and also how it will work with Samsung televisions.
It's still seemingly a work in progress but you can expect to find it on Samsung devices in the near future.