After CrystalRoc, it's Samsung's turn to release a limited edition of its Galaxy Tab. Well, meet the Samsung Galaxy Tab Luxury Edition which has been introduced at the Millionaire Fair in Amsterdam, the Netherlands. This time you won't find any Swarovski crystals on the Galaxy Tab shell or elsewhere.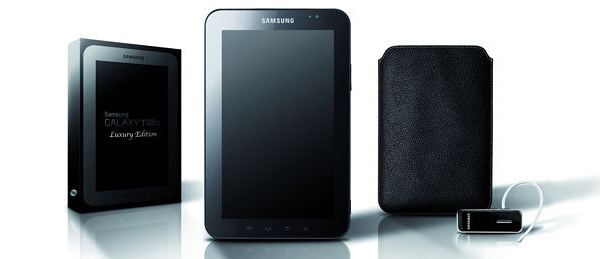 As a matter of fact, you pay some hundred euro more for the leather case and the not particularly nice looking Bluetooth headset enclosed in the Samsung Galaxy Tab Luxury Edition retail box.
Of course, you also get to be glad that you'll be among the few ones that have managed to purchase a limited edition item. After all, the Galaxy Tab Luxury Edition will be available only 45 days (between 15 December 2010 and 31 January 2011).
As for its price, it should be €750, which is way less than what you'll pay for the CrystalRoc-flavored Galaxy Tab.