Samsung has a thing for comparison tables as it first showed this with the iPad 3 vs Galaxy Note 10.1 table.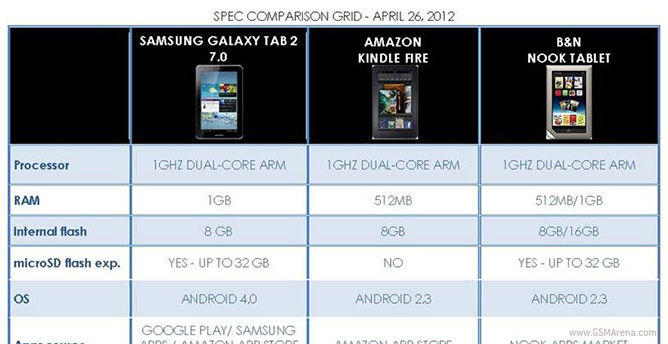 Now, the company is aiming to prove that its budget-minded Galaxy Tab 2 7.0 slate nukes the highly popular Kindle Fire and Nook tablets in every way imaginable. As you probably guessed the data that is supposed to convince you is neatly ordered in several tables.
In them, Samsung compares the main specifications of the products such as their display, processor, RAM, storage, microSD support, battery, price and more. Doing so, it tries to show that Amazon's Kindle and B&N's Nook Tablet are unable to provide the Android experience as Google intended it.
And the Koreans might have a point here. The Kindle Fire runs a heavily modified version of Android 2.3, as is the Nook Tablet, making them great at reading books and enjoying multimedia as a whole. But the lack of access to the Google Play Store is their Achilles heel.
Check the comparison below.
If you were looking for an affordable 7-inch Android tablet, which one would you choose?