Usually, new Apple product announcements generate lots of commotion and make a stir in the tech community. The new iPad unveiling is another case in point, but this time Samsung and Nvidia have something to say for themselves in response to Apple's claims on the iPad event yesterday.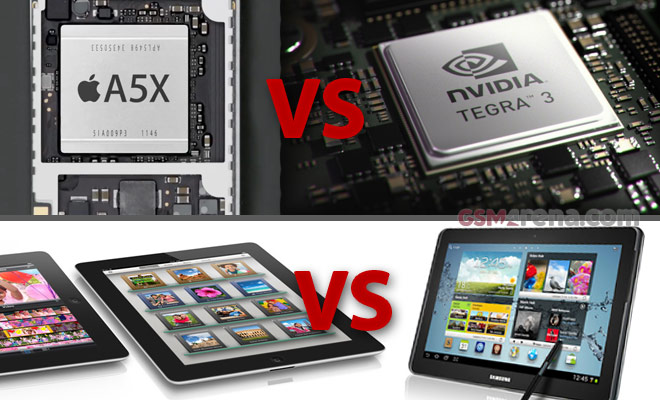 Samsung has felt the need to make a short comparison table, not close to our in-depth one, and put their Galaxy Note 10.1 and the new iPad face to face and see how they differ on some key (according to Samsung) points. Nvidia on the other hand, feel that the comparison between their Tegra 3 chip and the Apple's A5X won't win any awards for authenticity.
Samsung's response
Frankly, I suspected Samsung would react fast and they didn't disappoint. The South Koreans have put up a short comparison table, taking some key features of the new Galaxy Note 10.1. Namely, the pressure-sensitive active Wacom digitizer in combination with the S-Pen and the custom software job done by Samsung to enhance the user experience on their tablet.
Here's the table in question.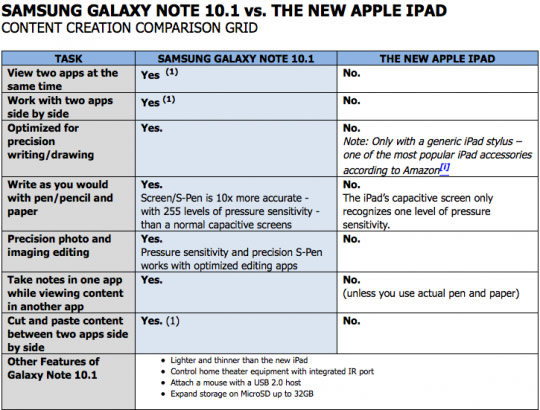 Taking a closer look, you'll notice that Samsung have repeated the same points two or three times. "View two apps at the same time" and "Work with two apps side by side" is sort of the same thing. Nevertheless, as you would imagine, Samsung's Galaxy Note 10.1 can do all of those things, while the new iPad just can't.
Samsung's tablet is also optimized for precision drawing, writing and taking notes, thanks to the aforementioned Wacom digitizer and S-Pen. It's also noted that the Galaxy Note 10.1 is lighter and thinner than the new iPad, can control TV sets via its IR port, has USB 2.0 host, which can be used for attaching a mouse and has expandable storage via the good ol' microSD card.
The major things like display, processor and pricing haven't been compared, but that is understandable due to both tablet's unavailability right now. Nevertheless, it's undeniable that Samsung has used the moment perfectly and despite the incomplete table, it's got the media talking.
Nvidia's response
Unlike Samsung, Nvidia were directly accused of having a slower product compared to the new iPad. Yes, we are talking chips and, more specifically, graphics chips. If you remember, yesterday Apple said the new iPad's A5X quad-core GPU is four times faster than the twelve-code Ultra-low voltage GeForce GPU in NVidia's Tegra 3 chip.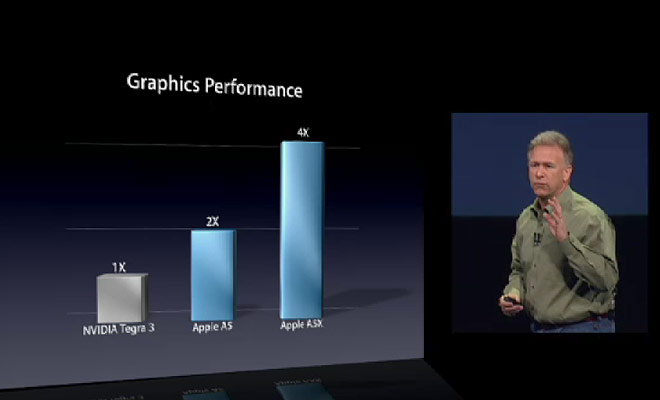 Naturally, NVidia have responded in a jiff and rightly so claim that why their find the comparison "certainly flattering", it's not entirely complete due to the lack of information. And, in fact, they have a point there. Apple just showed a graph saying "we are faster", but it doesn't provide any factual data like applications used for the comparison, drivers installed and how they actually ran the test.
In any case, NVidia say they'll grab an iPad come March 16 and put Apple's claims to the test. It's interesting to see what the results will be.