NVIDIA is primarily a GPU company and it utilizes its close relationship with game developers to promote its products. The new Tegra 4 chipset is no exception and the company already announced 5 more games that are specifically optimized for the chipset.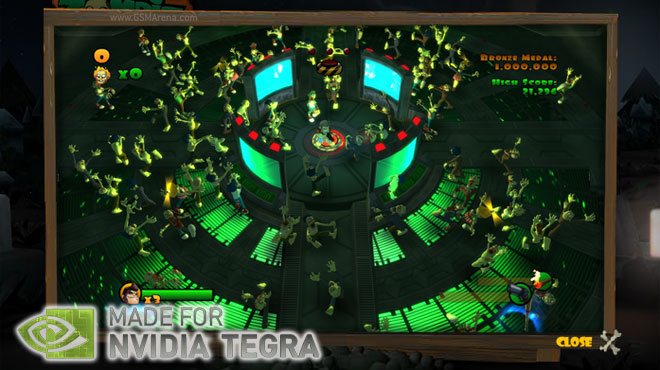 The Tegra Zone has been around since the Tegra 2 came to be and it is a platform for showcasing Tegra-optimized (Android) games. The Tegra 3 optimized games looked pretty good, but the newly announced chipset is massively more powerful than that – NVIDIA went from 12 cores @ 520MHz architecture in Tegra 3 to 72 cores @ 672MHz in Tegra4. So check out the first titles that will make the best use of the hardware update.
Zombie Driver was shown off earlier, but now there's a video demo:
As for the 5 newly announced games, they continue the zombie theme. Burn Zombie Burn by Tick Tock Games pits you against a never-ending hoard of zombies. In Dead on Arrival 2 by N3V Games you have to survive the zombie apocalypse, while enjoying high-res models and PhysX physics.
RPG CODEX: The Warrior by Neowiz swaps the undead for monsters and brings real-time dynamic shadows and HDR lighting. Carrie: Blood Mansion by Neowiz again is an action adventure game with high-res textures, enhanced physics simulations and optimized fire and smoke effects.
Further still from the horror genre is RU Golf by Nutgee. The game is available for Tegra 3, but on the more powerful chipset you would also enjoy dynamic specular lighting, soft shadows, and bloom and lens flare effects (bloom and lens flare are probably not something to brag about though, lots of people find them annoying).
This video shows a nice side-by-side comparison of what Tegra 4 brings to the table.
Right now there are only two devices announced that use Tegra 4 – NVIDIA's own Project Shield and a ZTE phone that's expected in H1 this year. I bet however, we'll see a lot more in 2013.