NVIDIA is working on a SHIELD Tablet, believe it or not. This has been confirmed by the fact that the device just got certified by the Global Certification Forum (GCF).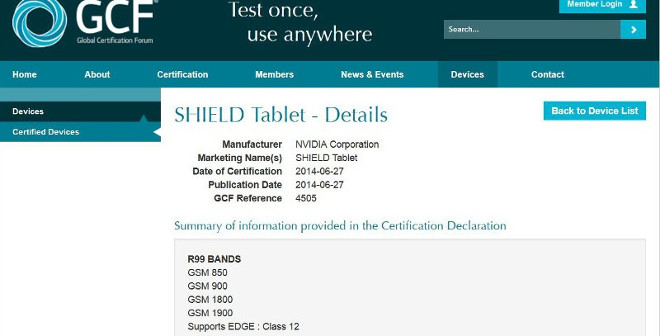 The SHIELD Tablet could be the next evolution of the SHIELD handheld gaming console that got official last year.
It may also serve as a successor of sorts to NVIDIA's Tegra Note platform – which is a tablet too (and a reference design as well). The GCF has only revealed that the device called NVIDIA SHIELD Tablet will come with 3G and 4G mobile data connectivity.
Other specs are up in the air right now, but past rumors had this thing coming with a 7.9-inch touchscreen with 2048×1536 resolution (just like the iPad Mini with Retina Display, for what it's worth). At the helm we should see an NVIDIA Tegra K1 chipset, which will allow for excellent performance.
The biggest question though is – what exactly is this? Another gaming console? A tablet? Both? Some speculation says the SHIELD Tablet may actually be one part of the upcoming SHIELD 2 handheld gaming console. The tablet would dock into the gaming controller, but it would also be possible to use it on its own.
We may find out everything there is to know about the SHIELD Tablet on July 22, which is when it might get official.