Micromax outed its new Canvas Laptab at CES 2014 and got a chance to take it out for a spin. The device is a part of a new trend of devices that's able to dual-boot both Android 4.2.2 and Windows 8.1, and seamlessly switch between them.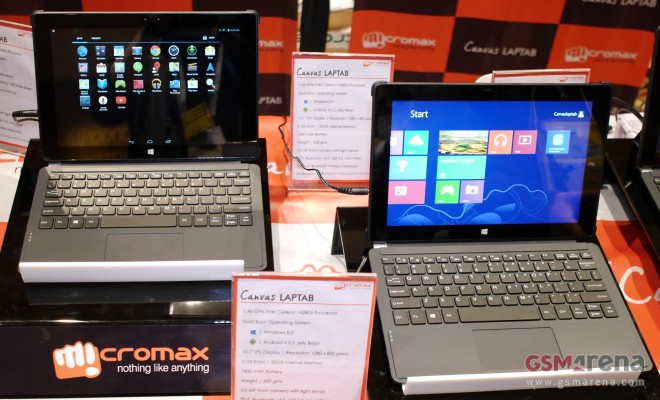 It's all thanks to Intel's new "dual OS platform" technology that allows you to run both OSs on a single device, and we already saw it in action on the Asus Transformer Book Duet.
Micromax Canvas LapTab hands-on
The LapTab comes with a 10.1-inch display of 1280×800 pixels, as well as dual 2 MP cameras on the front and back. Inside you'll find a 1.46GHz Intel Celeron processor, 2GB of RAM, and 32GB of storage expandable via the microSD card slot. The hybrid is powered by a 7,400 mAh battery, and comes with mini HDMI and USB 3.0, which is a nice surprise.

The tablet comes in at 650 grams and features a thickness of just under 10mm, which makes it about average for the class. The Celeron processor won't give you as good performance as you can expect from the Core i3, i5, or i7 processors powering most Windows notebooks, but it'll hopefully be priced competitively enough so as to not fall too far behind the pack.
The LapTab comes with an optional snap-on wireless Bluetooth keyboard cover that's also detachable from the back panel.
Expect the Micromax Canvas LapTab to go on sale starting next month.