Back in September, Google told us to expect an update to Android Wear that would bring support for offline music playback and GPS sensors. And now it looks like the first Android Wear device to get the new software is LG's G Watch.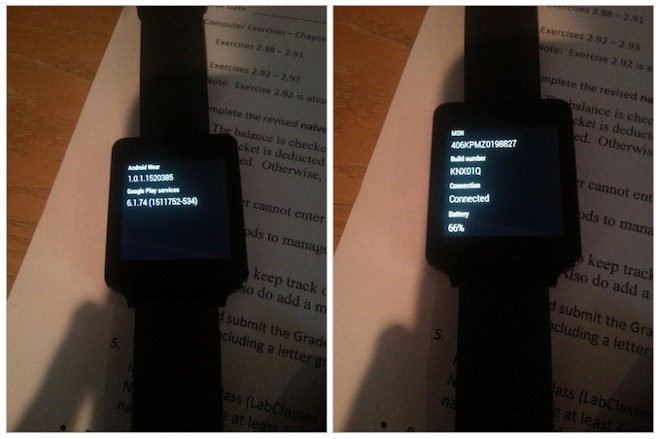 Some owners of this particular smartwatch have started receiving update notifications. After applying the new bits, they're on software version 4.4W.2 and build KNX01Q. And sure enough, a new 'Play Music' option shows up in the watch's menu. Furthermore, the G Watch is now capable of pairing itself with Bluetooth audio accessories.
That said, it's still unclear how exactly you may get music onto the watch, to enable true offline playback as advertised. It's also a mystery whether playback is only initiated from the phone, or if it will work (as you might expect) even if the watch isn't connected to a handset. All of these things will undoubtedly get cleared up once more people start receiving the update. It's a staged rollout, that's for sure, so if you own a G Watch, you could still need to wait a few days for it.
Because the G Watch doesn't have a built-in GPS, that functionality isn't applicable here. In fact, the only Android Wear device that was announced so far and has a GPS sensor is Sony's SmartWatch 3, which isn't on sale yet.