A disobedient promo video for Sony's attachable camera modules, the CyberShot QX100 and QX10, has jumped over the virtual fence and gives us a minute and a half look of one of Sony's big announcements tomorrow (the other being the Xperia Z1 / Honami).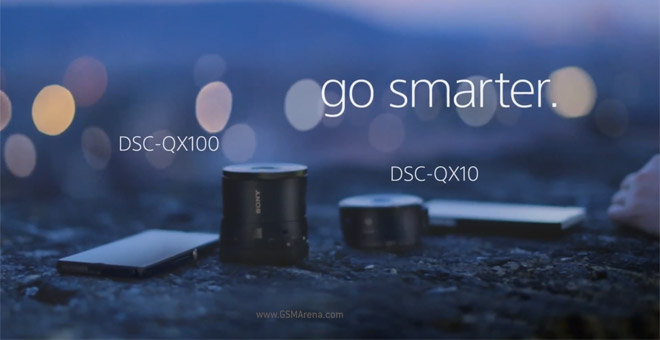 The QX devices are cameras that have been stripped down to the basics – lens, sensor and power to keep it all going.
You tap the camera to an NFC enabled Xperia phone and it pairs automatically with it. Presumably you'll need special app for that to work, we're keeping our fingers crossed that this app will be available for any Android.
After the pairing is done, the QX camera streams the viewfinder image to the phone over Wi-Fi where you get all the controls you're used to, including manual controls. You can either attach the QX camera to the phone (with the clamp system or with a special case) or you can hold the two separately to make framing easier (in tight spaces or if you want to be in the group shot).
Once a photo has been captured, you can edit and share it with any app on your phone you like, just like a regular photo.
The video also confirms all the specs we've heard so far, including the 1″ Exmor R sensor and F/1.8 ZEISS Vario-Sonar T* lens for the QX100 and the 10x zoom with Sony G Lens for the QX10.
What the video doesn't do is answer one burning question – what about video recording?
Also keep in mind that the promo video will probably be taken down soon, only to be (officially) reposted by Sony tomorrow.