Sony's QX detachable lens modules should be unveiled tomorrow at the company's IFA event, but what they look like will not be a surprise – with today's leak, virtually all press images of both models have leaked.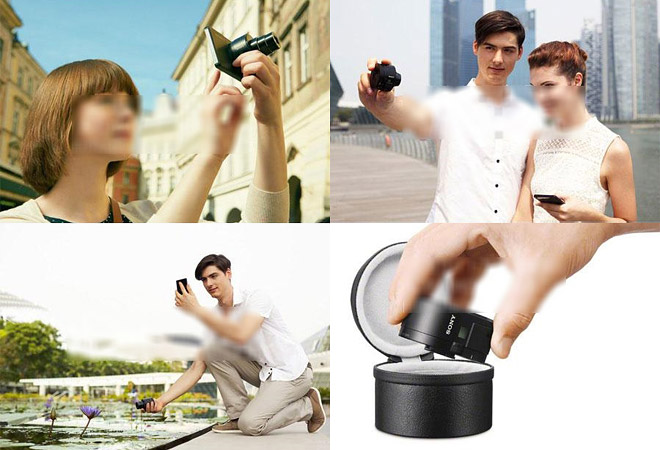 Besides looks, the images give out some of the vital specs and reveal a new way to attach the module to an Xperia Z1 (Honami).
According to the labels visible in the images, the devices will be part of the CyberShot line and carry the names DSC-QX100 and DSC-QX10.
The QX100 will be the top model with a ZEISS Vario-Sonar T* lens with F/1.8 aperture and 3.6x optical zoom, an Exmor R sensor (according to other rumors it's the 1″ 20.2MP sensor from the RX100M II).
The QX10 model will use a Sony G Lens with Optical Steady Shot and 10x zoom. Both modules have On/Off buttons on them along with a zoom control and a shutter key.
There are two ways to attach the camera – a one has a clamp that fits the various sizes of Android phones, while the other is a case that seems specifically designed for the Xperia Z1 (there's a G Lens label next to its camera) and the Xperia Z. Both attachments reportedly use magnets to help secure the camera module in place.





Attaching the QX100 and QX10 with the clamp system to the Xperia Z1 (Honami)


Attaching the QX10 to the Xperia Z1 with the special case




Attaching the QX100 and QX10 with the clamp system to the Xperia Z



Attaching the QX10 to the Xperia Z using the special case
The lifestyle images reveal you don't actually need to have the module attached to the phone while taking a picture, which will make much framing easier (it's much better than a swivel screen). The connection to the phone is wireless (NFC and Wi-Fi) and each module has its own battery. There's also a snazzy leather case to keep your QX camera module when you're not using it.
By the way, the QX100 and QX10 are expected to be cheaper than the cameras they borrow the lens and sensors from (RX100M II and WX150 respectively).
The CyberShot QX100 and QX10 should be announced tomorrow, September 4, at Sony's IFA event, which is also expected to bring the Xperia Z1 too. We'll be on site, ready to deliver hands-on impressions of both the modules and the phone.
Thanks to gmfady for sending this in!