Kobo just went ahead today and announced a lineup of three spanking new readers. The Kobo Mini is a simple e-book reader, the smallest one available, as the company claims. The Kobo Glo is my favorite and it matches what Barnes&Nobles have with their glowing Nook SimpleTouch and what Amazon will soon have with their sidelit e-book Kindle, too. And finally, the Kobo Arc is a reboot of the Kobo Vox, the rather unsuccessful attempt of the company at making an Android tablet for multimedia consumption ala Kindle Fire.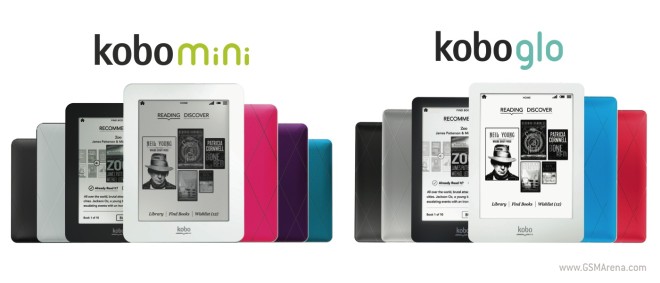 Kobo is the smallest of three major online bookstore/ebook reader providers on the US market. And when you are that small, the best way to cast a shadow on your competitor's announcement, is to go public with your products right after their announcement, not before it. That's the way the internet rolls, newer stuff goes on top of older news. But, hey, what do I know, over at Kobo they probably read off their own marketing textbook. But I digress.
The three new readers will actually join the current KoboTouch ebook reader, so Kobo will have a total of 4 devices on sale. All the three new devices will become available this fall through "select retailers", some of which include Indigo.ca, Futureshop.ca, Bestbuy.ca, and BestBuy.com. Pre-orders should be available very shortly.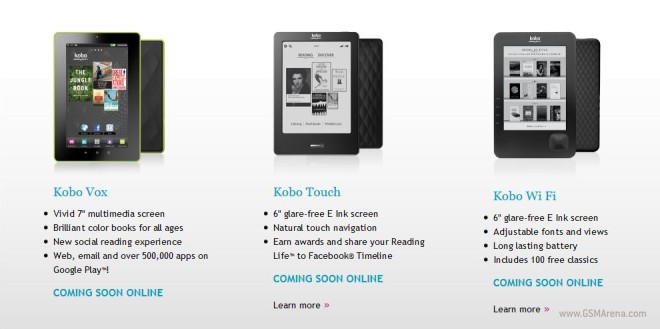 Kobo's current lineup without the new products
Kobo Glo
The Kobo Glo makes use of Kobo's ComfortLight technology to let you read in the dark. It's a regular 6-inch E Ink reader with a 1GHz Freescale processor and 2GB of built-in storage, expandable to up to 32GB via the microSD slot. The E Ink display has a resolution of 1024 x 768 pixels and can display up to 16 shades of gray scale. The promised battery life is one month, but without using the ComfortLight and the built-in Wi-Fi connectivity. The Kobo Glo will cost $130 and will be available in pink, blue, silver, and black.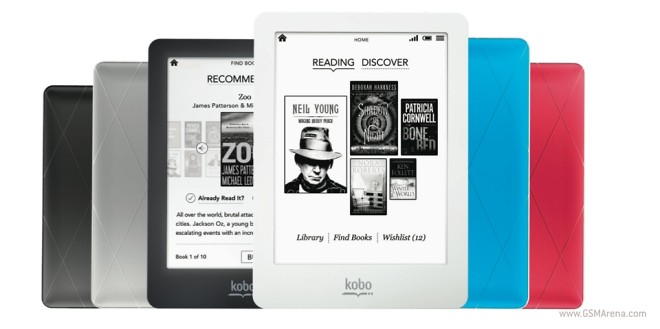 Kobo Arc
The Kobo Arc is a 7-inch tablet that utilizes Android Ice Cream Sandwich and has full access to the Google Play store. Under the hood there is a 1.5Ghz dual-core TI OMAP 4470 processor and 1GB of RAM. It also has some sort of a custom interface called Tapestries. A front facing camera promises Skype video chat functionality.
The Kobo Arc will come in black or white (with optional interchangeable back covers) and it would sell for $200 for the 8GB version and $250 for the 16GB version.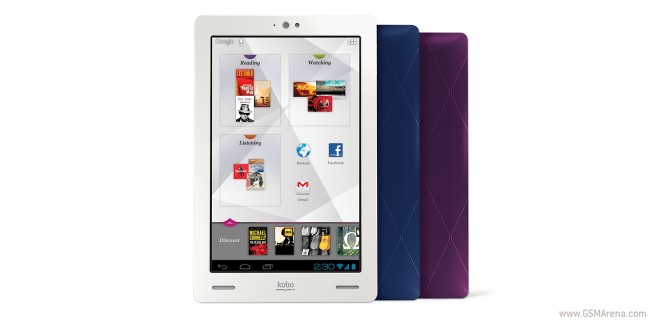 Kobo Mini
Finally, the Kobo Mini is dubbed by Kobo as the "smallest e-reader on the market". It has a 5-inch screen and weighs 134 grams. A 800MHz processor makes it tick, while the 2 gigs worth of storage are all you get for storing books. Battery life is rated at only 2 weeks. The devices has a touchscreen E Ink display and Wi-Fi connectivity.
The Kobo Mini will be available in black or white but thanks to interchangeable back, you will be able to personalize it in other colors as well (red, purple, and teal). The retail price for the eReader is equally diminutive at $80.