The rumor mill is going wild with gossip about various Nexus devices – from an LG-made Nexus phone to a new 10″ Nexus tablet. The rumor claims the new tab will have a killer screen, better than even the one on the new iPad.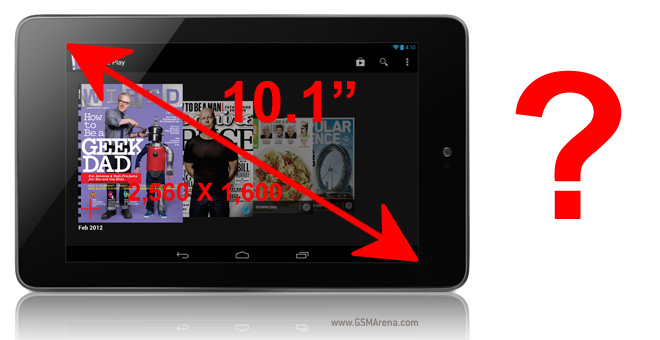 It will reportedly be a high-end device, unlike the current (and only) Nexus tablet -the Asus-made Nexus 7 (and it's potential $99 version). The Nexus 10 will reportedly be manufactured and co-branded with Samsung.
The info comes from Richard Shim, an analyst at NPD DisplaySearch, who spoke to CNET.
Shim claims the Samsung Nexus 10 tablet will have a screen resolution of 2,560 x 1,600, which works out to a pixel density of 299ppi on a 10.1 screen (sharper than the Retina display on the new iPad) and 16:10 aspect ratio (same aspect ratio as the Nexus 7).
During the Apple v. Samsung case, some court documents did reveal a 11.8″ screen with that resolution, which do lend some credence to this rumor, but we'd like to get some more solid clues before getting our hopes up.
Shim claims that his info comes from "supply chain indications," meaning the Samsung-Google branded Nexus 10 is close to reality.