Continuing a recent trend, HTC has published yet another of its apps on the Google Play Store. We're talking built-in apps which normally come preinstalled on the company's devices, such as the One (M8) flagship. And the latest app to be made available in the Play Store is HTC Weather.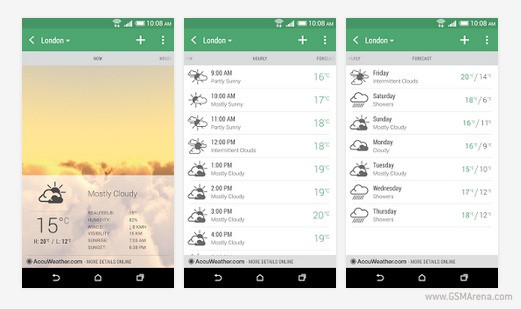 It does exactly what you'd expect it to – show you weather information and forecasts (up to seven days in advance), with details about temperature, humidity, real-feel temperature, wind speed, visibility, as well as sunrise and sunset times.
If it sounds interesting to you, don't run over to the Play Store to install this app on your non-HTC phone. That simply won't work, as the app is restricted to the Taiwanese company's own devices. The purpose of it getting published in the Play Store isn't to make it installable on non-HTC handsets, rather the point is that this way HTC will be able to push updates to it whenever necessary – and not have to wait for the next software update to deliver the new versions to your particular phone.