The long rumored Google Nexus tablet manufactured by ASUS has revealed its specs and its pretty face thanks to a leaked internal training document. And here's what it'll probably look like.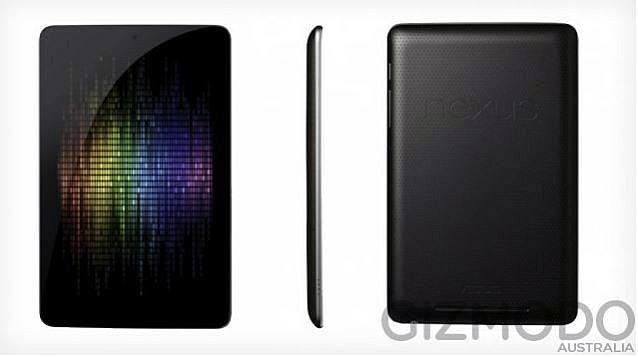 As usual with rumors, you should take this with a pinch of salt, but it all looks pretty real to me and matches most of the previous rumors. It's got the curved front like the previous Nexus family members, too.

Specs-wise, the leaked document confirms what we've been hearing so far. The tablet will be built around a 7-inch 1280×800 IPS display with a 178-degree vieweing angle. It's powered by a 1.3GHz quad-core Tegra 3 chip sporting 12-core nVidia GeForce GPU and 1GB of RAM. Expectedly, Android 4.1 Jelly Bean will be running on this sweet hardware and naturally the slate will get frequent updates directly from Google.
And, as you know, the tablet is expected to be a real Amazon Kindle Fire competitor, which means its price has to sit at under $250. According to the leaked document, it is. An 8GB Google Nexus 7 tablet will retail for $199, and the 16GB model will go for $249. Yes, those are going to be the only internal storage options, and since this is a Google Nexus product, no, there won't be a microSD card slot.
The back of the device won't sport a camera, which is presumably one of the corners that had to be cut to keep the price tag so low. You do get a front-facing 1.2MP camera, though. Yeap, just like we heard before.
Wi-Fi a/b/g/n, NFC with Google Wallet, and hopefully, Bluetooth 3 will be on-board, but the latter is yet to be confirmed. The battery is reported to last for 9 hours, which is pretty good for a device with such internals.
Excited? I know I am, and the wait for the Google I/O keynote speech is killing me. Apple and Microsoft now have their cards on the table, so it's extremely interesting to see what Google's answer will be.