Google Chrome. Google's web browser didn't waste any time in becoming a hit on desktop PCs and in a matter of just a few years placed second in the browser rankings. That's crazy even for Google, but they pulled it off.
With the release of Google Chrome beta for Android, the search engine giant will attempt to redo the browser's success but this time on mobile.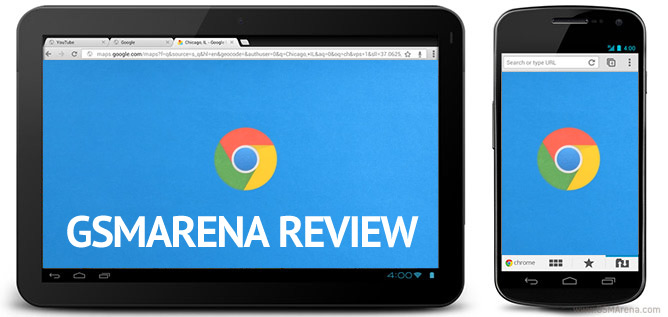 But as you know – mobile isn't the same as desktop. And now we are going to take a deeper look at Google Chrome beta for Android and see if the Chrome team has pushed the right buttons to shoot the browser in the right direction. The path to Android's new default browser that is.
Speaking of Android's default browser, particularly on the latest iteration of the OS, Ice Cream Sandwich, it's the best so far. It really is miles ahead of its older versions in terms of smoothness and speed. Let's not forget, shall we, that Firefox and Dolphin HD are also in the race. With that in mind how does Google's Chrome stack up?
For starters, Chrome is running on the WebKit rendering engine, so underneath the minimalist UI it's basically the same as all Android stock browsers. However, when we pit both Chrome beta and Android's stock browser against each other on the HTML5 test, the new Chrome beta destroyed the stock browser scoring 343 points against just 256 points for the stock browser. Ouch.
Performance-wise Chrome is fast. It scrolls, zooms and loads any web page just as quickly as you'd expect despite carrying the beta moniker. One of the reasons why it's fast is because the UI is incredibly simplified. The main UI element is the top bar, which holds the URL field and a refresh/stop button, tabs and "more" icons. And that's it. There's nothing else to obstruct the view of the webpage you've opened.
This doesn't, however, mean that Chrome's UI is dysfunctional or not intuitive. Just like its desktop sibling, everything is logically laid out and easy to use. I especially dig the new way Chrome is handling opened tabs and their management. Clicking the aforementioned tabs icon you get into a new screen where all your open tabs are stacked on top of each other like cards. And if you happen to have an incognito tab, which Chrome naturally supports, it's displayed in its own category, which is accessed with a simple swipe.
Closing tabs is done again with a swipe either to the left or right, Ice Cream Sandwich style. And the tabs do a cool animation when you close them, too. What's even cooler is that using a multi-touch gesture you can make a tab more prominent than the rest. Useful in case you want to emphasize an important tab for a later use.
You can also switch between tabs while viewing a website by a long tap and swipe left or right to reveal the previous or next tab in the stack. Check out our video overview of the Google Chrome beta for Android, where we show you exactly what I am on about.

Chrome is generous on settings as well. You can control almost every aspect of your web browsing from choosing what content you want to allow to load like JavaScript, images, cookies and pop-ups. If you are out of Wi-Fi access, you can, for example, choose temporarily not to load images. Digging into Chrome's options, you'll also have the option to turn the autofill of forms and storing passwords on or off.
But all those tricks can be found up Android's stock browser sleeve, too. Chrome has a secret weapon, though, it brings tabs and bookmarks syncing on the table. This means you can access your desktop's Chrome tabs, bookmarks and favorite sites if you are logged in the same Google account on your desktop and mobile device.
Once you sync some devices up, you can access their Chrome's content using the "Other devices" option in the "more" dropdown menu. There you'll see all your different synced devices and their currently opened tabs.
Firefox can do this, too, but in spite of my love for it, I find Google's implementation to be less obtrusive and easier to manage.
Unfortunately, while Chrome excels in many areas, it falls short on the one that could be a deal-breaker for many of Android users and this is Flash. Sadly, viewing Flash content is the one thing you won't be able to do on Chrome.
So, what's the verdict then? Chrome is an enhanced version of the already excellent stock Android browser and builds on it quite a lot, with the exception of the lack of Flash support. It's also breathing in Firefox's and Dolphing HD's necks and if they want to stay in the game, they'll have to introduce some mind-blowing features, fast.
What we are seeing today as Chrome beta for Android may very well be what we would call Android's new stock browser some time in the future. But when will this happen, if at all? I'm betting on Android 4.1. What about you? Will you give Chrome a chance or is the lack of Flash just enough to ruin it for you?