Hot on the heels of yesterday's Firefox for Android update, today we see the proper desktop version of Firefox get updated to ver. 17. The version spent about a month at beta stage, available to everyone interested for testing, so today's release is a final, stable thing.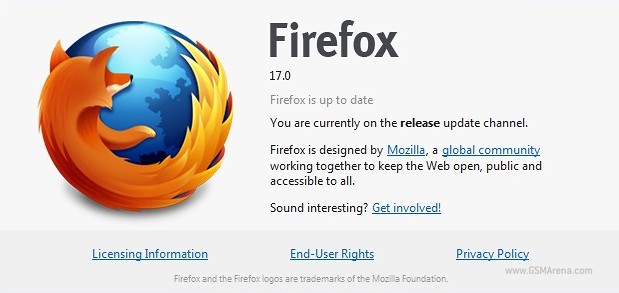 The new version of Firefox doesn't have that many new end-user features. One change is the way it handles older versions of plugins such as Flash, Silverlight, or Adobe Reader. If you have an older version of these (perhaps because you don't have enough user rights to update them), they will be temporarily disabled until you explicitly allow them to run for particular elements on the page via the so-called Click-to-play interface. But there's even more.
Mozilla Firefox 17 brings along several other changes besides the click-to-play for blacklisted plugins. Here are some of them:
Updated Awesome Bar experience with larger icons
Mac OS X 10.5 Leopard is no longer supported
Web Console, Debugger and Developer Toolbar faster and easier to use
Over twenty performance improvements, including fixes around the New Tab page
Social API is now fully supported along with Facebook Messenger for Firefox
So how about you? Anybody already tried it?