Apple's iOS has so far been a tightly controlled application environment where each app runs in its own sandbox and you hardly have any interaction between the apps. iOS is a place where you can't even access one app's files from within another one.
Well, as of iOS 8 this seems finally about to change (to a reasonable extent). Enter Extensibility.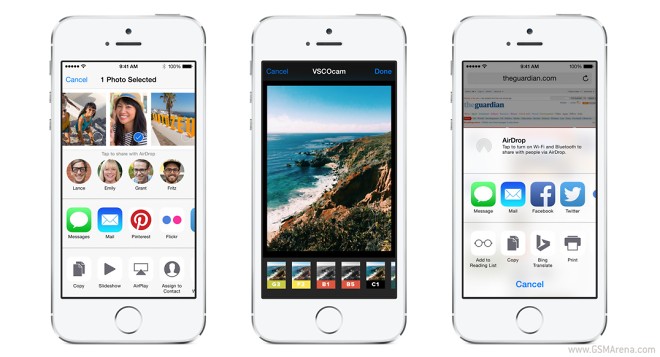 For the first time ever Apple will be giving developers access to enhance the core system apps and options.
Thanks to Extensibility, the iOS users will finally have a chance to add new stuff such as:
Third-party options for sharing in the system menus
Third-party filters in the Photos app
Third-party widgets in the Notification Center
Third-party Safari plugins such as Bing Translate or Add something to a wishlist
And even third-party keyboards such as Swype
Furthermore, iCloud Drive will bridge the gap, which exists between the files stored in individual apps. Using the iCloud Drive panel you can easily open files stored in other apps.
What I am still waiting for is a more meaningful way to utilize the lockscreen for delivering at a glance info of my choosing and an option to pick new default system apps – such as a new default Mail app or a new default web browser. Not to mention the lack of a split screen view on the iPad.
What about you? What is your iOS 8 favorite feature and which part of your reasonable wishlist has still not seen daylight?