Following the research of Strategy Analytics from a couple of days ago now comes a report from Canalys who confirms Android's lead in the tablet market.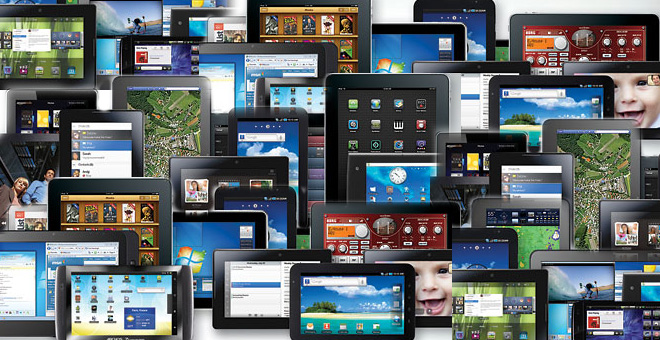 Samsung, Amazon, Lenovo and Acer combined have sold nearly 12 million tablets. Add to that number the smaller companies and the white-box tablet manufacturers, and the overall Android tablets sold for the quarter reached 19.5 million units.
Apple has still managed to ship 14,6 million iPad and iPad mini tablets, taking 42.7% of the tablet market in Q2 2013. The shipments dropped by 14.2% compared to Q2 2012 when the company sold a bit over 17 million tablets and its market share contracted by 28.5 percent points.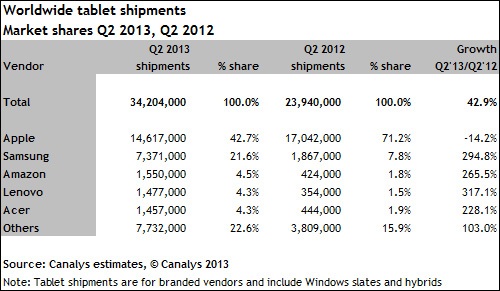 The second quarter of the year saw the shipment of 34 million tablets, which is a 43% year-over-year increase. As a result, tablets now take a 31% chunk of the worldwide PC shipments pie. According to Canalys, 68% of the tablets shipped in Q2 are below 9″. We suspect the new Nexus 7 will continue Android's tablet market push in Q3 as well.
It shuld be pointed out that the Canalys report differs quite a bit from the one of Strategy Analytics on the Android tablet shipments. According to them Android tablets boast a 67% market share with 34.6 million units sold out of the overall 51.7 million tablets that were shipped for the second quarter. We are not sure if SA includes some other manufacturers in its numbers, but it's unlikely that they account for such huge numbers. It's probably some difference in the methodology and one of the numbers is closer to the truth than the other.
In the end, one thing is certain – Apple's iOS has been dethroned from its cozy seat at the top and now Android gets to enjoy it for a while. However, individual Android tablet makers still have a long way to go until they reach the success of Apple's iPad line-up.