There is a bunch of news concerning the recently released iPad 3G. Apparently, the thing is factory unlocked and would accept with any SIM card cut down to the size of a micro SIM card. On top of that, like the non-3G iPad, the 3G capable one is also jailbrakeable and you can also make it send text messages if you want.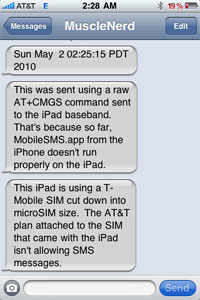 Plus you get a second juicy feature on board – the GPS receiver, which lacks on the Wi-Fi-only iPad.
While we, Europeans, will have to wait a bit longer for both the iPad Wi-Fi and the iPad 3G to arrive, those are already available in the States. Luckily, we managed to get one of the iPad non-3Gs and reviewed it a couple of days ago.
Meanwhile the Spirit jailbreak became available so the first jailbroken iPad 3Gs can be spotted across the USA. But while the Spirit isn't such a big news because we knew it was coming, there is something I didn't expect: the currently available iPad 3Gs are factory unlocked.
So, you will be able to take advantage of the iPad 3G even if you aren't an AT&T customer (that includes overseas iPad 3G-fans). The only thing you need to do is to cut your standard SIM card down to the size of a micro SIM card. Need a proof? Here it is: an iPad 3G accommodating a T-Mobile USA SIM card.
As you know, normally, the iPad doesn't have text messaging onboard – there's no app for that. While there still isn't any SMS composer, you can now text (the Spartan way) from your iPad 3G. But keep in mind two things: you have to jailbreak it first and to insert a non-iPad AT&T SIM card since obviously AT&T cards for the iPad don't have text messaging enabled.