Apple refreshed its MacBook Pro lineup but it's a relatively small upgrade. The 13″ and 15″ are more or less as rumored yesterday. This update comes less than a year than the previous one.

They are still powered by Haswell-based Intel Core processors, but with some new options. You also get 8GB RAM as standard on the 13″ MacBook Pro and 16GB on the 15″ model (last year it was 4GB / 8GB).
The base 13″ model ($1,300) comes with a dual-core Intel Core i5 running at 2.6GHz (Turbo Boost to 3.1GHz). You can bump up the speed to 2.8GHz / 3.3GHz for $100 or move to a dual-core Core i7 running at 3.0GHz / 3.5GHz for $300. The upgrade from 8GB RAM to 16GB costs a whopping $200.
This base model comes with 128GB PCIe-attached SSD storage, the more expensive versions climb up to 1TB of SSD storage. The 13″ models rely on Intel's on-board GPU, Iris Pro, and weigh 1.57kg (3.46 pounds).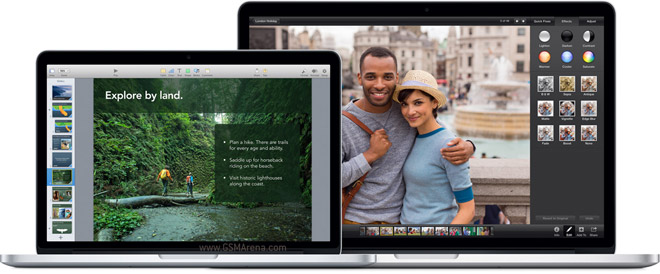 The 15″ models are all powered by quad-core Intel Core i7. The base $2,000 MacBook Pro 15″ comes with a 2.2GHz processor (up to 3.4GHz with Turbo boost). It starts you off with a 256GB PCIe-attached SSD and Intel Iris Pro graphics. The best processor available is a quad-core Core i7 at 2.8GHz / 4GHz, for $300 over the base price.
The $2,500 model switches to 512GB SSD as default and adds an NVIDIA GeForce GT750M with 2GB of GDDR5 memory. You can upgrade both 15″ MacBook Pros to 1TB SSD, but that amount of storage will cost you.
The larger laptops weigh 2.02kg (4.46 pounds). Both 13″ and 15″ models measure just 1.8cm thick and come with Retina displays (2,560 x 1,600 or 2,880 x 1,800 for the 13″ and 15″ respectively). They have two USB 3.0 and two Thunderbolt 2 ports, an HDMI port and an SDXC card slot. They will ship with Mac OS X 10.9 Mavericks (no Yosemite yet).
Check out the Apple Store for more pricing details and configuration options.