A new photo purportedly snapped at the Apple's Chongqing store in China suggests the 15-inch MacBook Pro is destined to receive a small specs bump. More specifically, Apple is planning to pimp the laptop with a faster Haswell processor as well as 16GB of RAM as standard.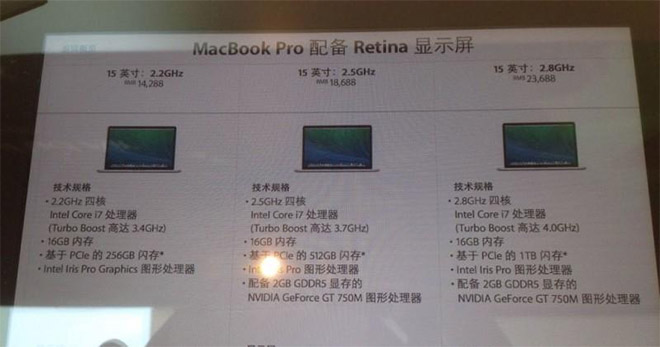 The good news is that the pricing won't be affected with current prices of the laptop remaining intact. As you'd expect the 15-inch MacBook Pro will retain its three main configurations.
The new base model would offer a faster Intel Core i7 CPU clocked at 2.2GHz and 16GB of RAM. Currently, the entry-level 15″ MacBook Pro comes with a Core i7 CPU at 2.0GHz and 8GB of RAM. The second configuration offers a slight CPU frequency bump, at 2.5GHz, and 512GB PCIe SSD storage.
The two configurations are priced at CNY 14,288 and CNY 18,688 , respectively, which when converted to USD, is a bit higher than the current Apple offerings, but rumor is the US price will not be changed.
So, if you've decided it's time to grab a 15″ MacBook Pro, you might want to wait just a tad longer before reaching for your wallet.