Reluctant to sit by the sideline, while Samsung is making homeruns with the Galaxy S4, Apple has launched a new ad campaign, highlighting the iPhone 5′s key differentiating features.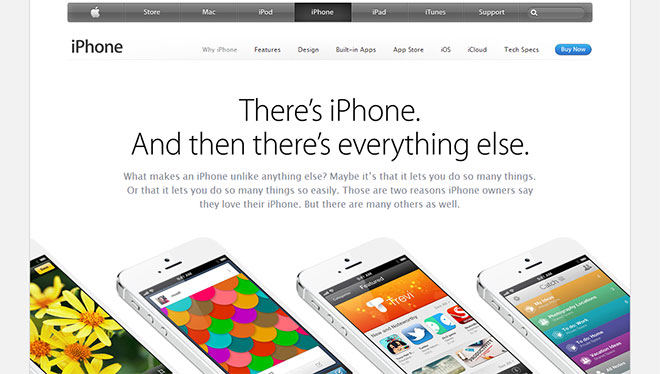 This time, Apple has chosen to make a dedicated web page rather than launching a new TV ad. That's probably due to the fact that it wouldn't be able to fit all the information in just 30 seconds.
But before bragging about its iPhone 5, Apple points out that it has won eight consecutive J.D. Power and Associates awards for customer satisfaction. Next, the marketing team from Cupertino goes on to saying that "has been meticulously considered and refined"
The Retina display is next on the feature list.
"Only iPhone has the Retina display."
If Retina means a specific screen pixel density, we agree. Latest droids have higher pixel density than the iPhone's Retina, so in a way… the iPhone 5 is the last of the flagships to have that low pixel density. But I am getting mean.
Indeed, the Retina monicker has become a commonplace word for a screen with high pixel density, but it's also true that it's Apple who coined and own the term. So yes, technically only an Apple product can have a Retina screen, which is not to say that other products don't have better screens. Sorry about that Apple. If I were you, I would have omitted this part. Ops, there I go being mean again.
The rest of the stuff Apple touts as best-in-class are the performance of Apple A6 chip, the iPhone 5 battery efficiency, the widespread LTE support, the user-friendliness of iOS 6 and Safari, as well as the iPhone 5′s spectacular camera. Mind you, most of these self-pats on the back are well deserved.
Apple joins HTC in attacking Samsung after the Koreans unveiled the Galaxy S4. Unlike HTC however, Apple's approach is more positive and dare I say, mature.
The Galaxy S4 is due to hit stores by the end of April, so we'll see if it'll sell like hot cake, justifying the anxiety of its rivals.