It takes some guts to stand up to the big guy and call his work a flop. And bravery is usually to be admired. But it takes a bit more than bravery to classify the next big thing from the world's leading smartphone manufacturer (your competitor) as #TheNextBigFlop, unless you are alright with people taking your comment for an arrogant sign of a deeply rooted inferiority complex.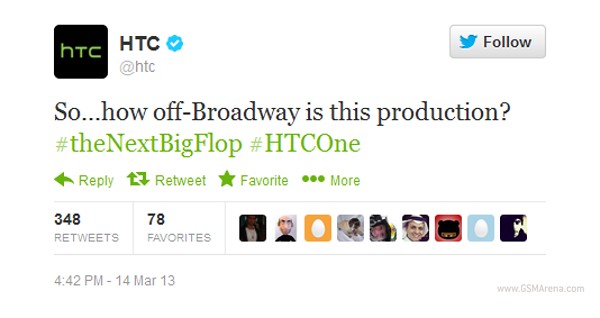 Whatever the reason, HTC, or rather the PR people behind HTC Twitter account did just that by calling today's Galaxy S4 announcement #TheNextBigFlop.
I am not saying there's a straight shot winner out of the comparison between the Samsung Galaxy S4 and the HTC One. Everyone is free to pick a side. But being mean is actually showing your weakness more than anything else.
I haven't seen a Broadway show, but as far as mobile phone announcements go, I've seen my fair share of those. And Samsung's events get better and better every year. This one was one of the funniest and outside-the-box product unveilings I've seen. Perhaps it was a bit cheesy at times, but calling it a flop? What do you think? Does HTC have a point there?