It was iFixit that first tore down the Nexus 7 tablet and as a result we can now see how much money Google is making from selling the device itself.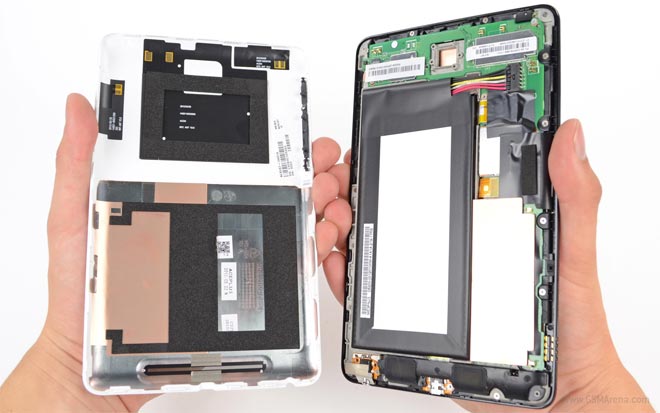 For the 8GB model, the margin is pretty slim (if it exists at all) as its parts were estimated to cost $184 while it sells for $199. That's a small profit margin whichever way you look at it, and this price doesn't even factor in manufacturing, marketing, shipping or research and development.
Things look a bit different for the 16GB model. You see, it costs $50 more than the 8GB model and since they are using virtually the same components, except for an extra flash chip worth around $8, it's actually sold for a small profit. So, Google's statement that it hardly makes any money by selling the Nexus tablet itself turns out to be true.
Here's the list of the key components, in case you are interested:
NVIDIA Tegra 3 – Quad-core mobile applications processor
Hynix H5TC2G83CFR – 2Gb DDR3 SDRAM
Kingston KE44B026BN/8GB – 8GB Memory Module
Realtek (RMC) ALC5642 – Audio CODEC + Headphone Amplifier
Maxim MAX77612A – Power Management IC
Texas Instruments TPS63020 – Buck-Boost Converter
Fairchild FDMC6675BZ – P-Channel Power MOSFET
Texas Instruments SN75LVDS83B – LVDS Display SERDES
ELAN Microelectronics eKTF3624BWS – Controller for Resistive Touchscreen
ELAN Microelectronics eKTH1036BWS – Controller for the Resistive Touchscreen
Broadcom BCM4751 – Integrated Monolithic GPS Receiver
InvenSense MPU-6050 – Six-Axis (Gyro + Accelerometer) MEMS Device
AzureWave AW-NH665 – 802.11n WiFi / Bluetooth / FM Radio module
NXP Semiconductor PN65 – Secure NFC Module