YouTube recently launched 60fps playback and now it's enabling the smoother framerate for livestreaming videos too. This update comes thanks to the new HTML5 player for livestreams, the old one used Flash.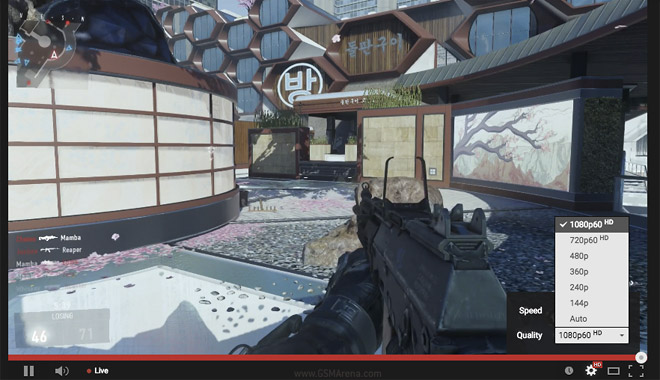 The YouTube team has also worked with the developers of screen capturing tools that support livestreaming.
Updated versions of Elgato Game Capture and XSplit Broadcaster and XSplit Gamecaster with 60fps support can be downloaded today. Other livestreaming apps can flip the high frame rate flag in YouTube's API to enable 60fps.
On YouTube servers the videos will be transcoded to 1080p @ 60fps and 720p @ 60fps. Streams at 30fps will also be available if your device isn't compatible with the faster framerate.
The new HTML5 player has the playback speed controls. If you joined a stream late, you can start from its beginning watching at 2x speed to catch up. Or you can go 1/2x or 1/4x speed for a slo-mo effect.
You can find YouTube livestreams here, unfortunately I don't see any indication which channels are doing 60fps (maybe none of them are yet?). Here's one 60fps video to check if your browser (and computer/tablet/phone) can handle it.
This move comes a year after Twitch, the biggest game livestreaming site currently, enabled 60fps streams. Google has been keen to take a piece of that pie as the more popular streamers have millions of followers. Google tried to acquire Twitch, but in the end Amazon snatched it up for nearly $1 billion.