The Yotaphone 2 is definitely a peculiar take on smartphone design with its dual-display setup, powered by a more than adequate set of hardware. The Russian innovation has definitely been gathering gazes and exciting tech fans all around.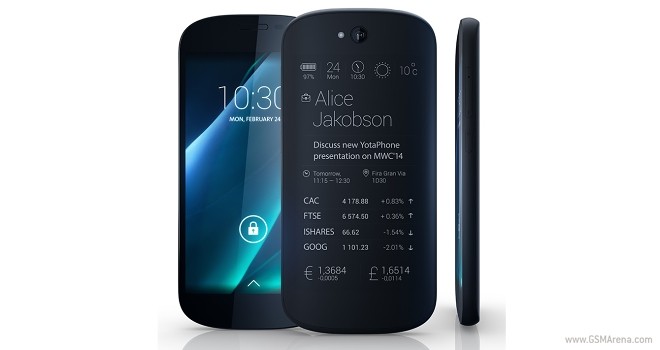 The handset is available at a promotional price of RUB 36,990 (about $640), instead of the usual RUB 39,990 (about $718). The special offer will be valid between December 30 1014 and January 7 2015, after which the normal price tag will apply. A slash of almost $80 is definitely an awesome deal, that is if you really feel the need to own the odd Yotaphone 2 and can justify spending than much money on it in the first place.
The handset does offer pretty decent specs even by late 2014 standards. It is powered by a Snapdragon 800 SoC and has 2GB of RAM and 32GB of onboard storage. It also comes equipped with 2 cameras – 8MP main and 2.1MP front, Wi-Fi a/b/g/n/ac, Bluetooth 4.0, NFC, A-GPS + GLONASS and microUSB 2.0 with SlimPort and is also LTE enabled.
But of course the main selling point is the dual display setup. The main screen is a rather trivial 5-inch Full HD AMOLED one, but the back of the device is covered by a 4.7-inch e-ink display with qHD resolution (540 x 960px, 235ppi) and 16 levels of gray, that really adds a new dimension to the Android-powered smartphone and leaves a lot of room for experimenting.
The promotion does sound pretty tempting, but it seems to be unavailable at the time of writing this article, as the official website still lists the device for the regular price of RUB 39,990. So be sure to check the store frequently is you want to get your hands on the Yotaphone 2, as supplies may not last.