Unlike most of the Microsoft-designed hardware (Zune, Kin, etc.), the Xbox is a strong seller, so this is potentially huge news – Xbox Surface, a 7″ tablet.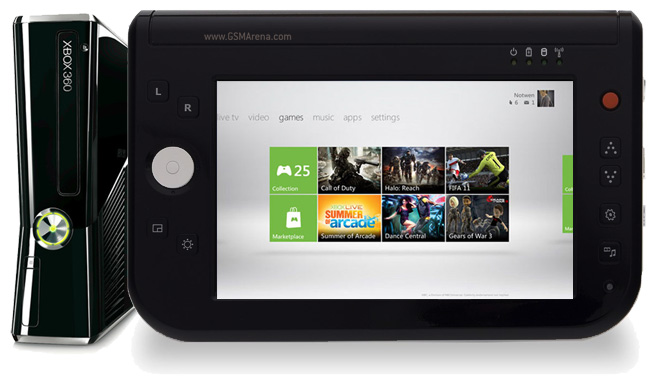 Is this the Microsoft-branded tablet that the rumor mill has been chatting about? Well, if it is, it sounds like a pretty odd design – besides the tablet, there's also a "stationary computing device", which is quite the powerhouse.
The tablet features a 7″ LED screen of 720p resolution, 288MB of RAM, Wi-Fi, Bluetooth and a regular-sized SD card slot. There's a rechargeable battery that is good for up to 7 hours of usage.
288MB of RAM sounds really low, which might suggest that the tablet acts like more of a wireless screen than a standalone device.
The stationary device packs two IBM POWER7 SCMs with six cores clocked at 3.1GHz each, there's 5GB of system memory, an AMD-sourced GPU with 1.2GB of on-board memory and full DirectX 11 support and a 250GB 2.5″ 10K RPM hard disk.
The stationary device also offers four ports for controllers, 4x USB 3.0 ports for other peripherals (like extra storage), component and HDMI TV-outs, optical S/PDIFF and an Ethernet port.
Is it just me or does this sound like an Xbox version of the Wii U GamePad right along with a brand new Xbox? It feels a little early for Microsoft to be announcing the next generation Xbox , so we'll have to wait for the announcement that Microsoft has planned for later today.
It goes without saying that this Xbox Surface business is far from official and that the image you see above is nothing but a quick mockup.