A Samsung-made tablet has leaked from Microsoft's BUILD developer conference, sporting what appears to be Windows 8. The device is a demo one intended to be given to devs (exclusively) to begin testing on.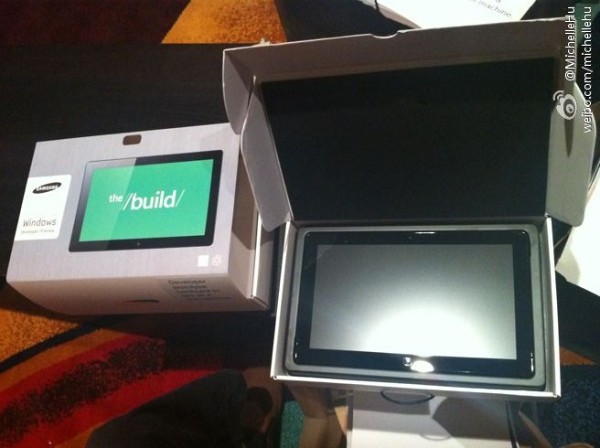 It could be the Samsung Series 7 Slate PC, which was revealed at IFA at the beginning of the month, meaning it will have an 11.6″ capacitive touch display with 1366×768 pixels resolution and 400 nits of brightness and a selection of Sandy Bridge Core i3, i5 and i7 (all should be Ultra low-voltage ones) processors with the generous 4 gigs of DDR3 RAM. The Series 7 Slate PC will feature Windows 7 upon launch and will be upgradable to Windows 8, once it's let loose by Microsoft.
The other possibility is that it will be the NVIDIA Kal-El powered slate – it means it will have 4 (four!) cores instead of just two and run on Windows 8. The difference with Intel's processors is that NVIDIA's will have an ARM architecture and perhaps lower battery consumption.
Last but not least it could be this mystery slate, which got in Gizmodo's hands. It's running on a test version of Windows 8 but the hardware it's running on isn't disclosed. There's a short video preview of the unknown tablet, which you can check out in the source link below.
As the BUILD conference develops we'll update with further information, as soon as it becomes available so stay tuned.