Samsung announced the Series 7 Slate PC – it packs new generation dual-core Intel processors, runs Windows 7 and puts an emphasis on sleek looks and a compact frame.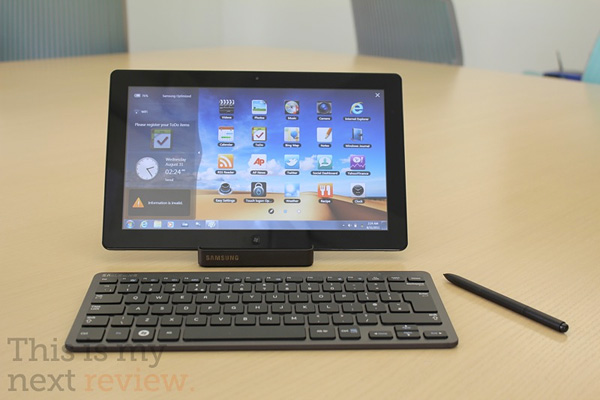 Not to be confused with the Sliding PC 7 Series, the Samsung Series 7 Slate PC packs a 11.6″ capacitive touch display with 1366×768 pixels resolution and 400 nits of brightness. The tablet comes with a Wacom digitizer.
The aluminum body of the Series 7 Slate PC is only 12.7mm thick and weighs 860g – not bad for a full-blown computer. On the connectivity side of things, there's a full-size USB 2.0 port, micro-HDMI port and a SIM card slot. You also get a 3MP main camera and 2MP cameras.
The Samsung Series 7 Slate PC will come with a choice of Core i3, Core i5 or Pentium processors (just to clear, new Pentiums are basically cut-down Core processors, not Pentium 4). The RAM is 4GB DDR3 and the tablet uses the processor's Intel HD Graphics 3000 GPU.
The Samsung Series 7 Slate PC should be out in October. The cheapest version has a 64GB worth of storage and costs $1,099 with Windows 7 Home Premium and $1,199 with Professional.
The other version has 128GB storage and comes with a dock and a Bluetooth keyboard. The dock packs a full-size HDMI port, Ethernet port and more USB ports. That one is $1349 with Home Premium, if you want Professional you get it for the same price but with no acessories.
Samsung says that the tablet will be upgradeable to the upcoming Windows 8, which is heavily geared towards tablet PCs.