Adoption of Microsoft's Windows 8 operating system has not been without its share of speedbumps, but it continues to rise according to the latest web traffic figures from Net Applications.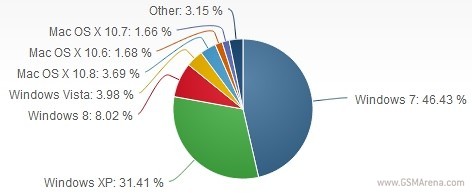 The latest Windows version comes in at just over 8%, mainly eating into Windows XP's share, which currently stands at 31.41%.
Neither, however, can eclipse the lion's share of the pie, currently owned by Windows 7 at 46.43%. This number has steadily grown over the past months, up from 44.4% back in July. This is likely due to Windows XP upgraders choosing the previous, more consistent Windows version.
Windows 8 has shown quicker adoption rates, up from 5.4% and 7.41% in July and August, respectively. Windows 8.1, available as a preview build, composes some 0.87% of web traffic, and is expected to gain huge adoption among users once it becomes officially available on October 18.
Windows Vista, the precursor to Windows 7, garners just under 4% of the pie, which is still enough to beat out Apple's latest desktop operating system, OSX 10.8.
Also included are mobile OS figures, which tell a slightly different story. iOS accounts for some 53.65% of mobile web usage, down from 58.26% in July. Meanwhile, Android is slowly on the rise, as all its different versions combine for a 29.43% market share, up from 25.28% in July.